Boulder County Community Wildfire Protection Plan
The current Boulder County Community Wildfire Protection Plan (CWPP) was completed in 2011. It is the result of the hard work of hundreds of residents, stakeholders, and agency staff.
An estimated 122 individuals directly contributed to the contents of the plan's 16 chapters, 10 appendices, 45 maps, 10 videos, 20 figures and tables, 41 photos, and 29 text boxes. Many more provided input to and/or reviewed drafts of the document. We owe special thanks to members of the plan's Core Team, Citizen Advisory Team, Foresters Work Group, and Risk Assessment Work Group for their dedication and vision.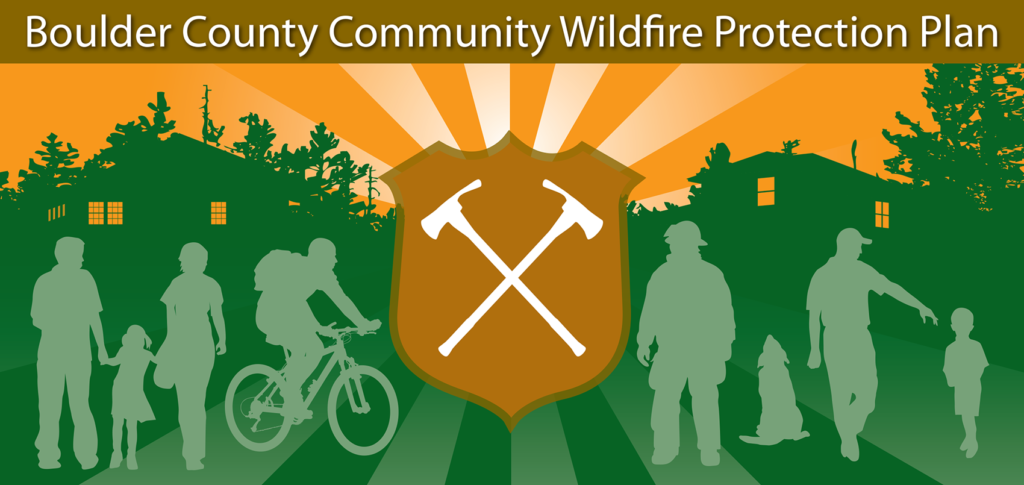 Boulder County Community Wildfire Protection Plan
Boulder County Community Wildfire Protection Plan Appendices
As an introduction, the plan's vision, goals, and purpose of the plan are listed below.
Vision:
By actively implementing this plan, residents, communities, and organizations in Boulder County will significantly increase and improve wildfire mitigation and preparedness efforts in advance of wildfires to accurately reflect the high risk and enormous costs associated with wildfire in the county.
Goals:
Save lives
Protect property
Reduce risk
Enhance the environment
Promote community
Purpose:
To reduce the number (prevention) and severity (mitigation) of future wildfires in Boulder County.
To save hundreds of millions of dollars in property losses, environmental damages, firefighting costs, restoration expenses, infrastructure costs, and other financial impacts associated with catastrophic wildfire.
To save thousands of residents the pain and suffering associated with losing their home, their possessions, their loved ones; and their sense of place, security, and community.
To help restore Boulder County forests to good health.
To effectively and efficiently support strong local Community Wildfire Protection Plans of individual fire protection districts.
To unite all communities of Boulder County—residents of the mountains and the plains—in a collaborative effort to reduce the negative impacts of wildfire.
Please visit the Wildfire & Forest Health for more information on actions you can take protect your family, home, land and community from future wildfires.