Health Coverage Enrollment Center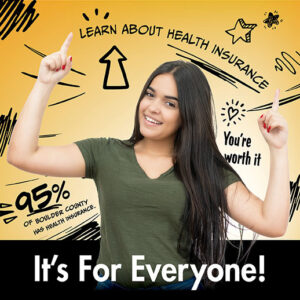 Our services are free, unbiased, and confidential.
We help with health insurance, including enrollment in the right coverage for you. Our local Health Coverage Guides, certified by Connect for Health Colorado, have been providing support to Boulder County residents since 2013.
Learn — the different health insurance programs that help with costs
Help — appointment types, what to bring, and next steps
Use — how to make the most of your health coverage
Resources — download information and flyers for residents and staff
Learn more about Health Insurance
A plan you buy that pays for some or all the health care costs for you and your family.
Government programs – related to age, income, employment, or immigration status – can greatly reduce health care costs.
Programs are based on household income, age, and citizenship status:
Open Enrollment, November 1 – January 15, annually, is when you can apply for Marketplace or OmniSalud health coverage. Outside of Open Enrollment a Life Change Event is needed to buy Marketplace health insurance during a Special Enrollment Period. Life Change Events include things like losing job-based health insurance, getting married, having a baby, or moving.
Medicaid & CHP+ are open to apply and enroll anytime all year long. Apply.
Medicare Open Enrollment is October 15 – December 7, annually.
Health Insurance Explained
Health Insurance Explained
Deductibles & Coinsurance
Deductibles & Coinsurance
Prescription Pricing
Prescription Pricing
Out-of-Pocket Maximum
Out-of-Pocket Maximum
Get Help with Health Insurance
Navigate, apply, and enroll in health insurance.
Appointments are in English or Spanish or via a language line if needed.
Update an account or enroll on your own through Connect for Health Colorado.
Update an account or enroll on your own for OmniSalud.
Update an account or enroll on your own for Medicaid or CHP+.
If you have an account, it is important that you come to your appointment with USERNAMES and PASSWORDS for Connect for Health Colorado and/or PEAK.
To meet in person, call 303-441-4530 or email healthcoverage@bouldercounty.gov
OmniSalud
Low-Cost
Limited to 11,000 enrollments. Maximum cost for an individual is $1,100/yr.
Enrollment limits were reached and this program is no longer available for 2024.
Full-Cost
No enrollment limits. Costs differ by age, ranging from $200 -$800+/mo. for an individual.
Appointments will be available in mid-November.
Know your health care options
Primary care provider — schedule your free annual visit
Mental health provider – all plans include mental health services
24-hour Nurse Line – to call and describe your symptoms and ask what to do for treatment.
Urgent Care Clinics – to get help with common conditions such as earaches, sore throats, migraines, sprains, minor cuts, and burns; lower cost than emergency rooms
Emergency Room/Hospital – for emergencies; always open and the most expensive option
Marketplace plans do not cover any costs for Out-of-Network Providers
Providers can change networks at any time. Confirm that your provider is In-Network
Annual Wellness Visit & Women's Wellness Visit
More than a dozen different health screenings
Aspirin use to prevent cardiovascular disease
Adult diet counseling at risk for chronic disease
Fall prevention for adults 65+ years
14 different immunization vaccines
Sexually transmitted infection prevention counseling
Statin preventive medication
Resources for Health Insurance