A Message from the Coroner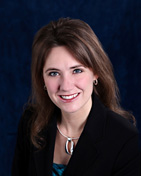 The Boulder County Coroner's Office plays an important role in the community and helps provide support to grieving families, friends, and next-of-kin in the event of a sudden, unattended, or unexpected death. Because of our daily role in responding to these often tragic occurrences, we are acutely aware of the sensitivity in working with individuals and families during this difficult time. To that end, our office and staff are committed to working in a compassionate, fair, and honest manner with anyone who comes in contact with our office for whatever length of time is needed. We welcome you to our office and strive to provide you with the best possible interaction with our investigative staff while we serve your family.
Respectfully,
Emma R. Hall, Coroner
Boulder County, Colorado
About Emma R. Hall, Coroner (2011-Present)
Emma Hall is a Boulder County native who grew up in Lyons on Hall Ranch. She comes from a pioneer family that has been part of Boulder County since the 1870s.
As Coroner, Emma is responsible for the day-to-day administration of the Coroner's Office as well as the daily management of cases. She is ultimately responsible for the determination of cause and manner of death for the cases in which the office takes jurisdiction of.
Emma is a graduate of Niwot High School and Metropolitan State College of Denver, with a degree in Criminalistics (the study of evidence). Her background includes experience and training in death investigation, autopsies and forensic pathology, crime scene investigation, evidence analysis, elder abuse, child death investigation, blood stain pattern analysis, forensic anthropology, mass fatalities and emergency management, aquatic death and homicidal drowning.
She is a certified Death Investigator and a member of the Colorado Coroner's Association. She co-chairs the Elder Abuse Fatality Review Team with District Attorney Stan Garnet.
As a publicly-elected official, Emma regularly attends a number of meetings throughout the county and state including:
Boulder County Elected Official/Department Head meetings
Mass fatality planning meetings
Fire and flood planning meetings
Boulder County Child Fatality Review Team meetings
Boulder County Law Enforcement Chiefs meetings
Metro Area Coroner meetings
Colorado Forensic Investigators meetings
Emma's true passion in the field is being able to provide answers to as many questions as possible to the family in each investigation and to help the family in their healing process.
Visit the Boulder County Coroner's Office for further information.