The Boulder County Community Planning & Permitting office at 2045 13th St., Boulder is open to the public on Monday, Wednesday, and Thursday from 8 a.m. to 3 p.m., and on Tuesday from 10 a.m. to 3 p.m. Appointments are available on Tuesday but are not required. Schedule an appointment.
El Programa de Embajador de la tecnología
Acerca del Programa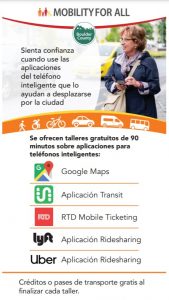 Mobility for All  colabora con los socios comunitarios del Condado de Boulder para ofrecer talleres de tecnología relacionada con el transporte y apoyo personalizado para ayudar a los miembros de la comunidad, de todas las edades y capacidades, a sentirse más cómodos con el uso de aplicaciones de transporte, tales como:
Busque y inscríbase para talleres virtuales
Ver talleres anteriores y videos instructivos
Herramientas del Plan de Movilidad
El transporte confiable y accesible es esencial para acceder a las oportunidades económicas, a la atención médica para sostén vital y a los programas de servicios humanos, así como también para prosperar socialmente. Sin embargo, sólo un medio de transporte no puede satisfacer todas las necesidades de todas las personas. Es por eso que es importante descubrir qué opciones de respaldo están disponible, las cuales incluyen autobuses, bicicletas, viajes compartidos y más.
Mezclar y combinar los modos de viaje crea un plan conveniente y efectivo desde el punto de vista del costo, para su viaje específico. Determine el plan de transporte que resulte más económico para usted mediante el uso de esta herramienta gratuita de planificación en línea o programe una consulta gratuita con un Embajador de Mobility for All (consulte a continuación).
Crea tu plan de movilidad
Embajadores de la tecnología Mobility for All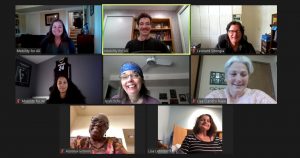 El Programa de Embajador de la tecnología Mobility for All del Condado de Boulder ayuda a los miembros de la comunidad, de todas las edades y capacidades, a sentirse más confiados al usar las aplicaciones de su teléfono inteligente para movilizarse.
Regístrese para un café virtual con un Embajador a fin de desarrollar su plan personalizado de viaje y lidiar con cualquier barrera que pueda experimentar al usar Google Maps o al acceder a las aplicaciones de RTD, Uber, o Lyft. Pueden solicitar apoyo personalizado o una presentación visual para un grupo pequeño (menos de 8 personas) o para un grupo grande (más de 8 personas, como por ejemplo un centro de viviendas o un grupo comunitario).
Para programar una sesión virtual de ayuda con un embajador voluntario capacitado, presente una solicitud a continuación.
Una vez que presente el formulario, su embajador se comunicará con usted dentro de 3-5 días hábiles para establecer un horario mutuamente conveniente para su sesión. Dicha sesión durará hasta 30 minutos y se realizará mediante video conferencia, teléfono o ambos, dependiendo de su preferencia y de la de su voluntario.
Regístrese para un café virtual con un Embajador
Embajadores actuales de M4A