The Boulder County Land Use Code is an important tool that plays a large role in determining how unincorporated Boulder County will look in the future. Public input is critical to the Land Use Code success.
It is a dynamic document that must adjust to changes in practices, site conditions and/or to deal with unintended consequences. The Land Use Code may be amended through initiation of the Planning Commission or the Boulder County Commissioners. The amendment process provides procedures consistent with applicable State requirements by which changes may be made to the text of the Code and to the Official Zoning Map. This procedure shall apply to all proposals to change the text of the Code or to revise a zoning district classification or zoning district boundary line shown on the Official Zoning Map.
The Board of County Commissioners need the public's input in making the Land Use Code a better document that reflects community values, is administered as fairly as possible, can be clearly understood, and effectively implements the basic vision of the Boulder County Comprehensive Plan.
---
Potential Amendments Under Consideration
Composting Incidental to Farming – Land Use Code Amendment Under Consideration
Composting Incidental to Farming – Land Use Code Amendment Under Consideration
Please note that any changes to the Code through this potential amendment will not apply to industrial composting facilities.
Community Planning & Permitting staff are exploring ways in which opportunities and access to composting may be furthered through small-scale, decentralized composting operations on farms located in unincorporated Boulder County.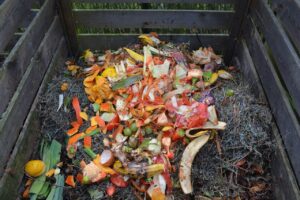 Currently, the Land Use Code allows composting incidental to farming on farms up to a 1,000 cubic yard limit. However, the Code prohibits the collection of composting material from the general public and doesn't allow retail sales of finished compost products on site. Agricultural community members and local partners pursuing regenerative farming practices have expressed how these provisions act as barriers to local circular economic approaches. For example, farmers incur high costs to import necessary materials from outside of the County to make finished compost products.
At this time, staff is seeking public input prior to requesting authorization from the Board of County Commissioners to pursue revisions to the Land Use Code to allow the collection of materials and sale of finished compost and will continue to seek feedback throughout any future Code amendment process.
Presentation and Virtual Community Meeting, Feb. 16, 2023
On Feb. 16, 2023, Community Planning & Permitting staff held a Virtual Community Meeting to review potential changes to the Land Use Code related to composting incidental to farming. The meeting included a presentation and overview of the existing code language, followed by a Q+A session and the opportunity for staff to hear directly from the community regarding the changes under consideration.
Documents:
---
Community Questionnaire and Next Steps
A Community Questionnaire was open through March 3, 2023. View the Summary Graphic or All Responses.
This project is still in the conceptual phase and a formal public comment period is not yet open. Subscribe to the Land Use Code Notification email list to keep up-to-date on proposed amendments and public meetings and hearings.
For more information, email Long Range Planner Andrea Vaughn or call 303-441-1356.
---