New Motor Vehicle Self-Service Renewal Kiosk available at Louisville King Soopers
Renew your vehicle tags seven days per week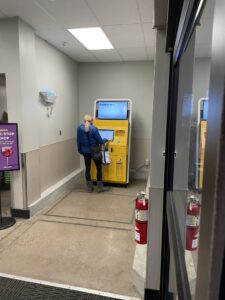 Boulder County, Colo. - Boulder County residents can now renew their vehicle registration at a recently installed self-service kiosk at the King Soopers in Louisville at 1375 E South Boulder Road. The kiosk is available during store hours, typically 6 a.m. – 11 p.m. seven days per week (holiday hours may differ), and is located inside the main doors immediately to the right.
Resembling an ATM machine, the bright yellow and blue self-serve kiosk is simple and fast to use. Using the touch screen, residents simply type in their license plate number and VIN number (or bring renewal postcard), follow the instructions on the screen, and renew their license plates. The kiosk collects all taxes and fees and accepts checks (standard size only), credit, or debit cards. Fees include a $0.50 charge for checks or a 2.3% charge for credit/debit cards and a MV Express fee of $3.95 per transaction at this location. The kiosk dispenses a receipt along with the vehicle registration and plate tab on the spot. The entire transaction can be completed in less than two minutes. The kiosk can also issue replacement tabs for a small fee.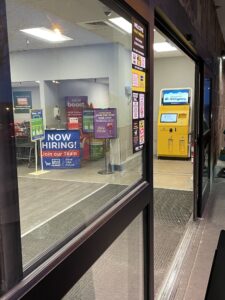 This is the third MV Express Kiosk installed in the county. There is a kiosk in the lobby at the Boulder County Clerk & Recorder's office in Boulder that is available for use from 7:30 a.m. – 5 p.m. Monday – Thursday. Another kiosk is located at the Longmont King Soopers in the Horizon Park Center (2255 Main Street) that is accessible seven days a week from 6 a.m. – 11 p.m. (unavailable during holiday closures).
Kiosks can be used the month before your plates expire, the month your plates expire, or up to 12 months after your plates expire. Residents may also use the kiosk directly after getting an emissions test if their renewal required emissions testing (typically stated on the renewal postcard). Residents can also renew registration online at https://mydmv.colorado.gov/.
As of December 2022, appointments are required for all in-person Boulder County Motor Vehicle services, and all vehicle registration renewals must be completed out of office (by kiosk, mail or drop box, or online).
For more information on the Clerk & Recorder's Motor Vehicle Division, visit bouldercounty.gov/motorvehicle or call 303-413-7710.