Free RTD Public Transit for All in August 2022
RTD offers zero fares on all services in August to help reduce air pollution
Boulder County, Colo. -- Everyone in Boulder County is invited to take part in Zero Fare for Better Air – a collaborative, statewide initiative designed to reduce ground-level ozone by increasing use of public transit. From August 1 through August 31, all RTD services – including the airport buses – are free for everyone.
Individuals of all ages and abilities, who may have never used transit services, residents whose travel habits have changed during the pandemic, and residents who continue to rely on RTD to deliver them to the important destinations in their lives are all welcome to enjoy the free public transit options in Boulder County and throughout Colorado.
This state-wide opportunity for free transit was made possible by Colorado Senate Bill 22-180, which Boulder County supported during the last legislative session.
"August is Colorado's high ozone season, which means it's the perfect time to leave the car at home and take public transit," said Commissioner Matt Jones. "We all have a part to play in reducing ozone and its devastating contribution to negative public health impacts and the climate crisis. There are hundreds of thousands of people in Boulder County taking thousands of car trips each month. Everyone taking just one trip on public transit this month would have a huge impact on reducing our ozone levels. And did I mention? It's free!"
"Vehicles on the road create more than 25% of all air pollution nationwide and that pollution has a negative impact on our air quality and health," said Board of County Commissioners Vice-Chair Claire Levy. "Taking part in the Zero Fare for Better Air program in August is a way for all of us to help protect our friends, family, and neighbors, as well as those who are most affected by air pollution, including children, the elderly, those with respiratory conditions, and everyone who works outside."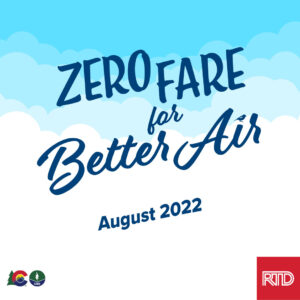 Boulder County's social media accounts will promote ideas and options for public transit in Boulder County throughout the month of August. Follow our accounts to get inspired.
Tips for Using Transit
Transit App is great for route planning and real time arrival information.
Google Maps has a transit feature. Just look for the bus icon on the upper left of the computer screen. You can use your phone to do this too.
RTD Trip Planner will help you get from point A to point B on RTD.
Health Impacts of Ozone
Ozone on its own is invisible and is produced when volatile organic compounds (VOCs) mix with nitrogen oxides in the presence of sunlight. Breathing high levels of ozone can harm the respiratory system. Boulder County's VOCs predominantly come from oil and gas operations to the northeast and combustion byproducts from vehicles. These pollutants often get trapped against the mountains where they receive sunlight that spurs the chemical reaction that produces ozone. Ozone used to be thought of as a summer problem, but ozone season is starting earlier and ending later due to climate change.
Ozone can make lung conditions like asthma worse and can permanently damage lungs. Children, older people, and those with lung conditions or people who have to work outside are impacted most. However, ozone pollution can cause chest pains, coughing, and throat irritation in anyone, even at low levels. Before exercising or spending a lot of time outdoors on hot summer days, it's best to check the air quality conditions in your area. And on high ozone days, do outdoor activities in the early morning or after 8 p.m.
Boulder County Takes Action to Improve Our Air
Boulder County continuously takes steps to improve our air, including:
Engaging at the state-level to support regulations that reduce emissions from, oil and gas development, other industrial sources, and vehicles, including adopting Clean Car Standards. In July 2022, Boulder County, in partnership with several other local governments and Colorado Communities for Climate Action, sent a comment letter to the Regional Air Quality Council asking for the inclusion of more aggressive mitigation actions in the draft ozone State Implementation Plan that is set to be approved by the Air Quality Control Commission later in 2022.
Working with local businesses to promote alternative transportation, energy efficiency, and pollution prevention through the Partners for a Clean Environment Program.
Working with oil and gas operators to detect leaks and follow up on needed repairs.
Passing the strongest oil and gas regulations in Colorado.
Supporting local schools to reduce car trips related to school travel, which reduces car emissions, while also often increasing safety and physical activity among students, staff, and family members, through the Trip Tracker Program.
Supporting local individuals and partner agencies to increase bike and bus pass access, as well as, bike and bus travel trainings through the Mobility For All and Youth Transportation Programs.
Providing multiple free recreational shuttles and supporting other local transit providers.
Providing the on-demand Ride Free Lafayette Service.
Providing RTD EcoPasses and bike share memberships for all Boulder County employees .
Supporting multimodal transportation alternatives to individual car owners, such as free EcoPasses and subsidized CarSharing memberships, to Boulder County Housing Authority residents.