American Rescue Plan Act (ARPA)
Boulder County

Plan to Use

ARPA Relief Funds
Financial Overview
$63,359,749 million total ARPA SLFRF funding awarded by the U.S. Department of the Treasury to Boulder County.
ARPA Funds Timeline
.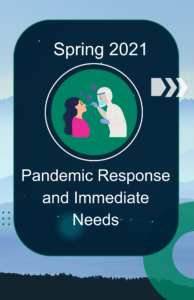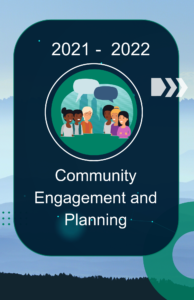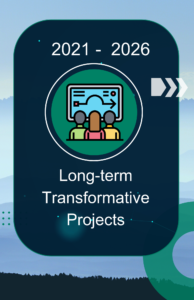 Phase 2 Pandemic Recovery and Relief Projects
The Boulder County Board of County Commissioners has approved $46,480,000 in Phase 2 ARPA funding, in addition to $5,531,880 for immediate needs approved in 2021. Below are descriptions of the Phase 2 projects in the categories of Economic Challenges, Housing Affordability, and Mental Health and Social Resilience.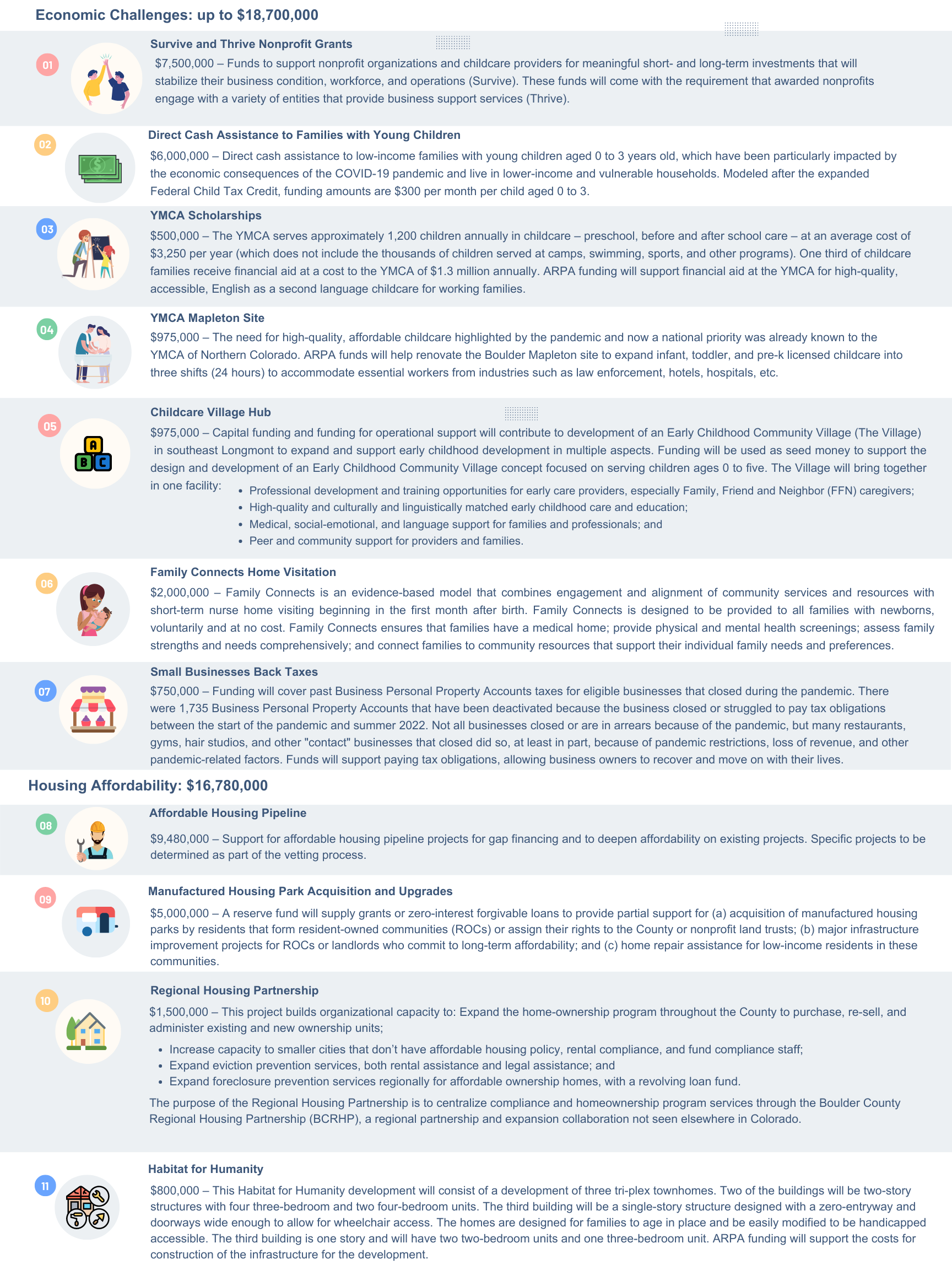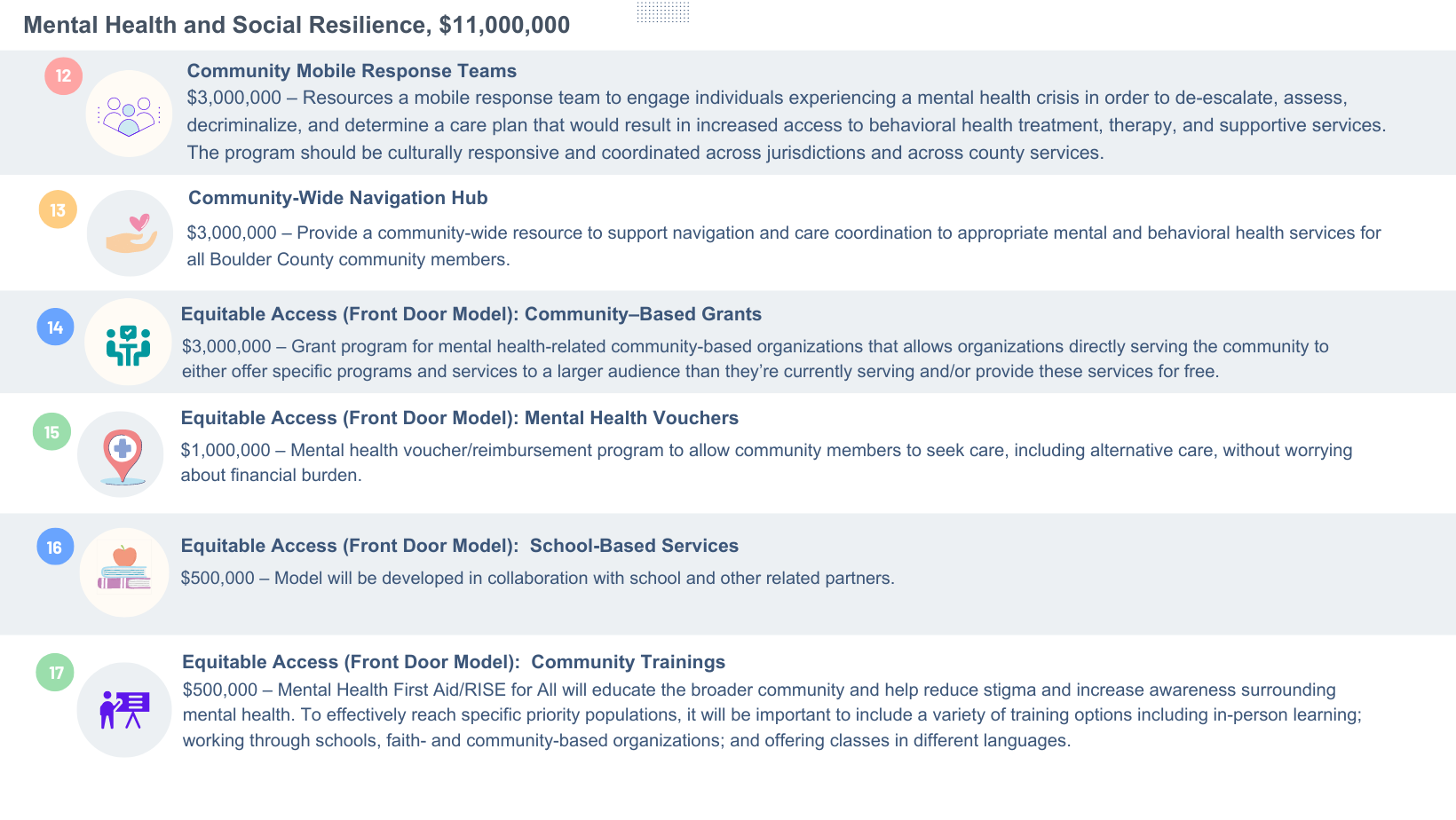 ARPA News
ARPA Working Groups Appreciation Event
On August 18, Commissioners Marta Loachamin, Claire Levy, and Matt Jones gathered with members of the county's American Rescue Plan Act (ARPA) Working Groups at an outdoor celebration to express their appreciation for the time and expertise the group provided as part of the community engagement and planning process.
Working Group members volunteered their time to bring recommendations for the areas of great concern for the Boulder County community: Economic Challenges, Housing Affordability, Mental Health and Social Resilience. Last May, ARPA Working Groups held a public hearing, available in English and Spanish, to present the proposals for the equitable distribution of federal funds in Boulder County.
The Commissioners recently approved $46,480,000 for recovery projects as part of the second round of funding for COVID-19 Recovery.
ARPA funds meetings recordings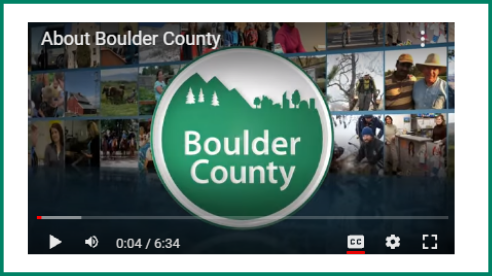 ARPA Working Groups' meetings (2022) – ARPA-YouTube
Watch the recording of the Boulder County Board of Commissioners Town Hall on public input of ARPA funds investment.
Sep. 9 BOCC Town Hall (2021) – ARPA-YouTube
Results from the ARPA Steering Committee's six weeks of outreach to better understand the impact of COVID on community members

.
ARPA State and Local Fiscal Recovery Fund Expenditure Categories
The Treasury Department launched this much-needed relief category to address the following:
Support urgent COVID-19 public health response efforts to continue to decrease spread of the virus;
Support immediate economic stabilization for households and businesses;
Address systemic public health and economic challenges that have contributed to the inequal impact of the pandemic;
Replace lost revenue for governments to strengthen vital public services and help retain jobs; and
Make infrastructure investments in broadband, clean water, and wastewater facilities.
The Treasury Department requires that local governments address disparate impacts and achieve equitable outcomes with ARPA funds and cites President Biden's Executive Order on Advancing Racial Equity and Support for Underserved Communities Through the Federal Government, signed on January 20, 2021. The BOCC stated their support for that executive order and for advancing racial equity in a Jan. 27 statement.
Boulder County's initial recovery plan describes response and recovery efforts to date, community engagement and planning efforts, consideration of equity impacts and outcomes, actual and planned uses of funds, and other information required by the Treasury Department. The subsequent report in July 2022 will further expand Boulder County's approach, goals, and measurable outcomes.
Emergency Rental Assistance Program (ERAP)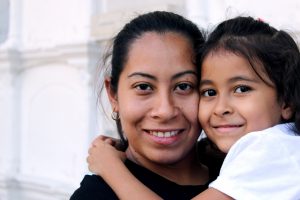 If you are a tenant unable to pay your rent due to COVID-19, the Emergency Rental Assistance Program may help. If you are a Boulder County resident click on
bocorentassistance.org
for more information.