American Rescue Plan Act (ARPA)
What is the American Rescue Plan Act (ARPA)
The American Rescue Plan Act of 2021 (ARPA) is the latest in a series of Coronavirus Disease 2019 (COVID-19)-related relief and economic stimulus legislation. ARPA State and Local Fiscal Recovery Funds help build economic capabilities for state, local, territorial, and tribal government agencies to meet pandemic response needs, address the negative economic impacts, and build a strong and equitable recovery from this public health crisis. With this federal aid, jurisdictions have been able to strengthen and support vital public services put at risk by or needed because of the pandemic.
How Do ARPA Funds Impact Boulder County?
On March 11, 2021, the American Rescue Plan Act (ARPA) was signed into law. As part of ARPA, the Coronavirus State and Local Fiscal Recovery Fund (SLFRF) was established to address certain impacts from the pandemic. Boulder County was allocated $63,359,749.
States, territories, counties, and cities with populations of 250,000 or more are required to publicly post and submit annual Recovery Plan Performance Report to the Treasury Department by July 31st of each year. The plan focuses on pandemic efforts to date and how Boulder County's approach to using ARPA funds will support a strong and equitable recovery, respond to the public health emergency and negative economic impacts, and address racial, health, and economic disparities.
---
Community Engagement and Planning
---
Funding Allocation
$63,359,749 million total ARPA SLFRF funding awarded by the U.S. Department of the Treasury to Boulder County.
Spring 2021
Pandemic Response and Immediate Needs
2021 -2022
Community Engagement and Planning
2022 – 2026
Phase 2 Project Implementation
ARPA News
Boulder County Releases the 2023 Annual ARPA Recovery Plan Performance Report
Boulder County has published the 2023 American Rescue Plan Act (ARPA) annual report, detailing how the county will use the $63,359,749 in ARPA State and Local Fiscal Recovery Funds (SLFRF) to help residents and businesses recover from the COVID-19 pandemic. The ARPA SLFRF provide urgent and targeted state and local funding for COVID-19 response and recovery efforts.
Since receiving this federal funding, Boulder County has accomplished several significant milestones, including the completion of some of its the projects identified to meet immediate needs when the pandemic was still in full force, as well as the allocation of all remaining ARPA funds to Boulder County's Phase 2 transformational projects detailed in the 2023 ARPA SLFRF report. The report is now available on the county's ARPA website.
"The American Rescue Plan Act was a lifeline for Boulder County during the pandemic," said Commissioner Marta Loachamin. "This funding has helped us to support projects that will build affordable housing opportunities, keep people in their homes, support families, and keep our community moving forward. We have made significant progress in several areas, including education and the COVID learning loss, tax relief for small businesses, and public health services. I am grateful to the hard work and dedication of our community and all of our county partners for making these accomplishments possible."
"Boulder County has made great progress in advancing racial equity by centering race with projects that keep communities advancing toward equitable economic stabilization," said Commissioner Claire Levy. "The funds outlined in this report are providing a path to strengthen social and financial infrastructure and provide access to much needed services for communities that have been historically underserved. With this report, the community can follow Boulder County's decision process and community participation to see how we have ensured equitable and meaningful distribution of the ARPA funds."
ARPA Newsroom
ARPA funds meetings recordings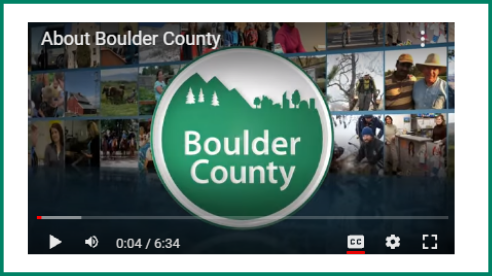 Updates and highlights on the $63.3 million American Rescue Plan Act (ARPA). Watch the public briefing on the link below and send your comments ARPAinput@bouldercounty.org
Watch the recording of the Boulder County Board of Commissioners Town Hall on public input of ARPA funds investment.
Results from the ARPA Steering Committee's six weeks of outreach to better understand the impact of COVID on community members

.