American Rescue Plan Act (ARPA) funds are helping Boulder County communities overcome the challenges of the pandemic and rebuild a better future. The stories below are just an example of how this funding is helping to address the negative economic impacts and challenges of the COVID-19 pandemic and build a strong and equitable recovery in Boulder County.
American Rescue Plan Act (ARPA)
Boulder County

Plan to Use

ARPA Relief Funds
Financial Overview
$63,359,749 million total ARPA SLFRF funding awarded by the U.S. Department of the Treasury to Boulder County.
ARPA Funds Timeline
Spring 2021
Pandemic Response and Immediate Needs
2021 -2022
Community Engagement and Planning
2022 – 2026
Phase 2 Project Implementation
Phase 2 Pandemic Recovery and Relief Projects
The Boulder County Board of County Commissioners has approved $46,480,000 in Phase 2 ARPA funding, in addition to $5,531,880 for immediate needs approved in 2021. Below are descriptions of the Phase 2 projects in the categories of Economic Challenges, Housing Affordability, and Mental Health and Social Resilience.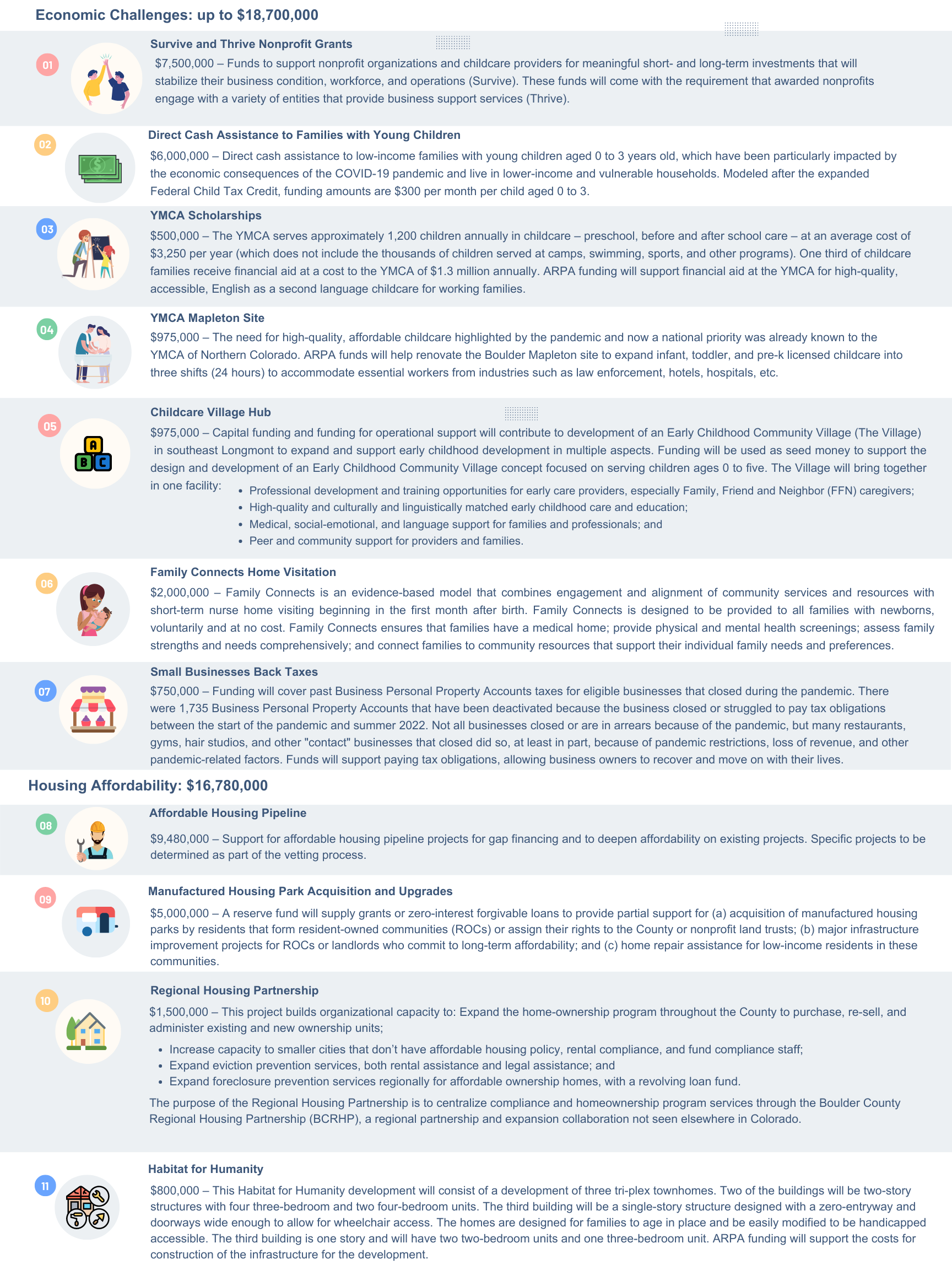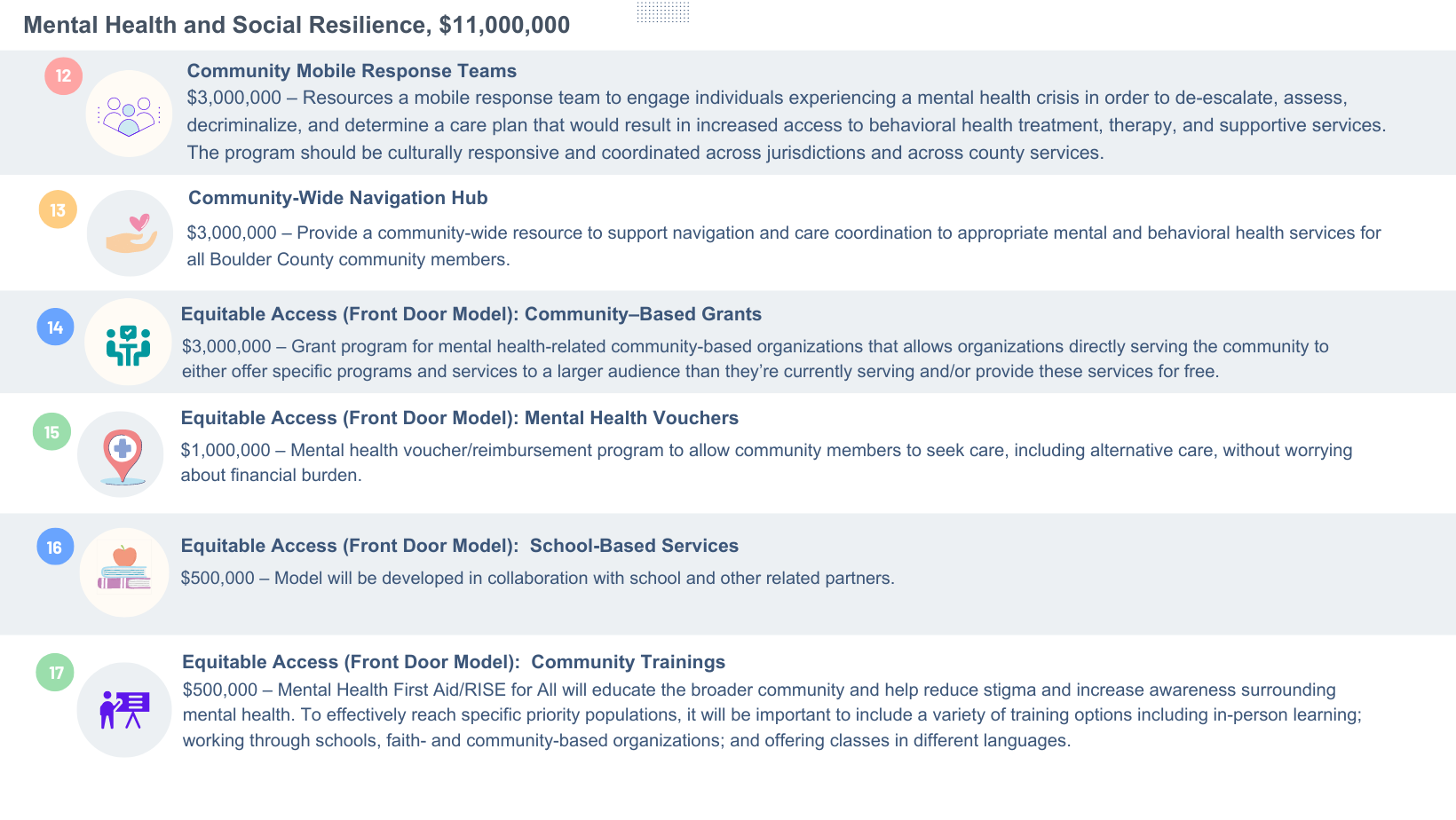 ARPA News
Boulder County Launched Monthly Newsletter with Updates on American Rescue Plan Act (ARPA) Projects
Boulder County ARPA News provides monthly articles, interviews, and stories about ARPA funds and their use in three main areas: Economic Challenges, Housing Affordability, and Mental Health and Social Resilience. "Each new edition of Boulder County ARPA News will feature progress being made on Boulder County's Phase 2 Pandemic Recovery and Relief Projects supported by ARPA, with content on resource distribution, implementation of ARPA relief funds, and insights from funding recipients and project collaborators," said Leslie Irwin, ARPA Administrator. "We are excited to share stories in the ARPA newsletter that will feature the latest developments for each project and how these funds will support those most affected by COVID-19 across Boulder County."
ARPA Phase 2 Pandemic Recovery and Relief Projects include planned and ongoing programs for families and children, solutions to address housing affordability, and accessible programs for mental and behavioral health services amongst other transformative ideas for creating a stronger, more equitable Boulder County.
To read the previous newsletters go to ARPA Newsroom.
ARPA funds meetings recordings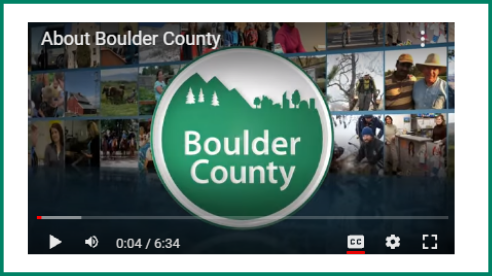 ARPA Working Groups' meetings (2022) – ARPA-YouTube
Watch the recording of the Boulder County Board of Commissioners Town Hall on public input of ARPA funds investment.
Sep. 9 BOCC Town Hall (2021) – ARPA-YouTube
Results from the ARPA Steering Committee's six weeks of outreach to better understand the impact of COVID on community members

.
ARPA State and Local Fiscal Recovery Fund Expenditure Categories
The Treasury Department launched this much-needed relief category to address the following:
Support urgent COVID-19 public health response efforts to continue to decrease the spread of the virus;
Support immediate economic stabilization for households and businesses;
Address systemic public health and economic challenges that have contributed to the inequal impact of the pandemic;
Replace lost revenue for governments to strengthen vital public services and help retain jobs; and
Make infrastructure investments in broadband, clean water, and wastewater facilities.
Treasury requires that local governments address disparate impacts and achieve equitable outcomes with ARPA funds and cites President Biden's Executive Order on Advancing Racial Equity and Support for Underserved Communities Through the Federal Government, signed on January 20, 2021. The BOCC stated its support for that executive order and for advancing racial equity in a Jan. 27, 2021, statement.
Boulder County's annual recovery plan describes response and recovery efforts to date, community engagement and planning efforts, consideration of equity impacts and outcomes, actual and planned uses of funds, and other information required by Treasury. See the most recent ARPA SLFRF Recovery Plan Performance Report through June 30, 2022.