Creating a Farm to Early Care & Education (ECE) Program
Farm to Early Care and Education (ECE) is a nutrition education program that aims to give children, ages 6 months to 5 years, the opportunity to learn about healthy, local foods through:
Gardening
Cooking activities
Taste tests
Field trips
Farmer visits
Meals and snacks
Nutrition lessons
Farm to ECE is different from other nutrition education curriculums because it teaches children where food comes from and how it is grown. When children help to grow or prepare fruits and vegetables, they're more willing to try them!
Farm to ECE Goals
To increase access to nutritious food and experiential opportunities in an effort to grow healthy children.
To positively influence the eating habits of young children while their food preferences are forming.
Farm to ECE Program Expectations
Child care programs will provide the following:
A weekly gardening activity
A weekly nutrition education activity
A monthly communication to parents about program activities
A monthly update on activities you've completed
Colorado Shine Points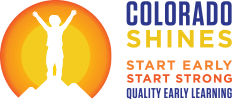 Meeting the Farm to ECE program guidelines can count towards Colorado Shines points for levels 3-5. Specifically, points can be allotted related to:
Standard 5.6: Program offers nutrition information and education programs, annually, led by nutritionist or registered dietitian (2 points possible)
Standard 5.7: Program has a garden and serves fruits/vegetables from the garden for children to taste (2 points possible)
Readiness Self-Assessment
Complete this form to understand if your child care program is ready to implement the program.
Self-Assessment Form