The Public Works Department's Building Services Division is responsible for the design, construction, and maintenance of the soon-to-be-constructed alternative sentencing facility (ASF), which will be located on Airport Road in Boulder on the lot of the Boulder County Jail. Prior to beginning design, staff researched other similar facilities and conducted interviews with those who operate and maintain the buildings to ensure that best practices were incorporated in the design. In addition, staff spoke with the county teams who would be responsible for the day-to-day operation of the facilities programs to ensure that their needs and wants were also factored into the building when complete.
When complete, the 55,626 square-foot ASF will be able to house up to 252 offenders who have been sentenced to one of the county's community-based sentencing programs (i.e., work release, community corrections). The building will also have community-based classrooms, several day rooms, and support spaces.
The exterior of the building will use construction materials that are similar to those used for the Emergency Operations Center/Communications Center, the Detox Building, and the new Administration Building.
The building, including the interior layout, is currently in the final stages of design.
Anticipated Construction Schedule
Project posted for bid by qualified companies – 4th Quarter 2021 (estimated date)
Construction Start – 1st or 2nd Quarter 2022
Construction Completion – 4th Quarter 2024
Lot Layout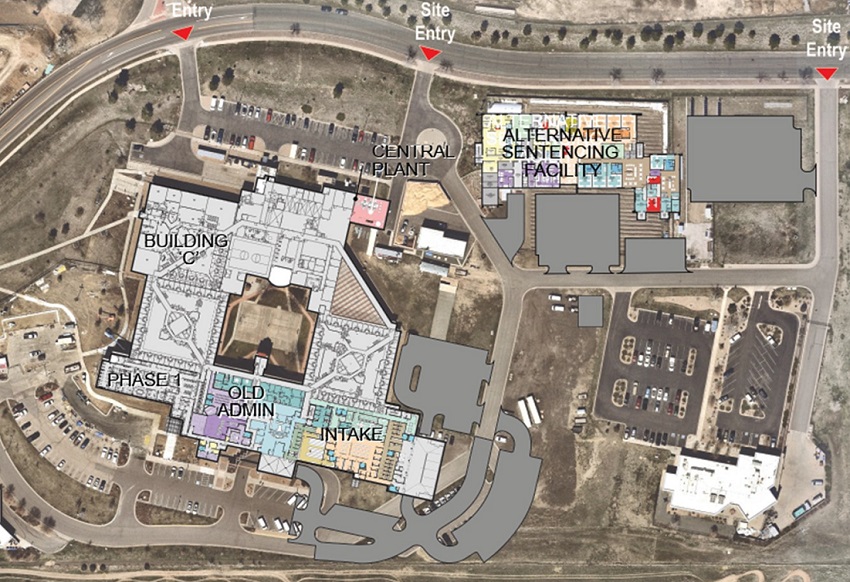 Project Renderings