Colorado State Highway 7 (CO 7) Bus Rapid Transit (BRT) Development

In conjunction with collaborating partners, Boulder County is assisting with the development of bus rapid transit along the Colorado State Highway 7 (CO 7) corridor to eventually extend from Brighton to Boulder. This project started with the Northwest Area Mobility Study and has included the development of a Planning and Environmental Linkages (PEL) study from Brighton to Lafayette, another PEL from Lafayette to Boulder and the Boulder East Arapahoe Plan within the city of Boulder. The project is in the Preliminary Engineering phase and is being managed by CDOT. The CO 7 Coalition approved moving forward in January 2021 using a Corridor Development Plan, which establishes the overall framework for which components on the corridor move into preliminary engineering and develops a schedule for when each component will be completed.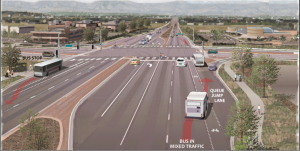 These studies have focused on how to accommodate future projected growth along the corridor and increase options for the traveling public. Bus Rapid Transit is an important part of recommendations and includes a variety of treatment options, including queue jump lanes and transit signal priority. This image shows an illustrative example of an intersection with queue jump lanes for transit with a widened intersection.
In an effort to help maintain a rural character, the section within Boulder County from US287 to 75th Street looked for alternative roadway cross sections that did not add additional general-purpose travel lanes to help keep the roadway narrow. The two retained alternatives (see below) provide example cross sections. Alternative A conceptually shows how the bus may be able to use an outside lane. The second alternative, B, shows a reversible transit lane, which would require use of technology to assist with timing the transit vehicles travel through the shared section.
Station Areas Planning
An important part of having excellent transit service also includes the environment to and around the stations. In an effort to help enhance the experience of people who choose to take transit, the county was also a part of Station Areas Master Plan (STAMP) project team. That project looked at the stations all the way from Brighton into Boulder.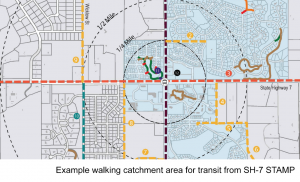 The county has also worked with the Town of Erie and others in determining potential conceptual station designs for the area near US 287 and Arapahoe. Spurred on a development proposal, multiple stakeholders came together to analyze various options for a station that would accommodate future transit enhancements while also determining the amount of right-of-way that would be needed. The full memo can be found here.
The image below shows a station area concept for US 287 and Lucerne Drive with enhanced bus bays, amenities, and a pedestrian tunnel. This option will move forward for further analysis.

Project Contact
Jeff Butts, Boulder County Multimodal Transportation Planner: jbutts@bouldercounty.org