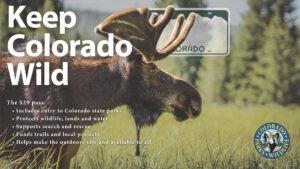 Beginning in January 2023, ​​​Colorado residents will have the option to get a $29 Keep Colorado Wild (CO State Parks) Pass when they register a vehicle or renew their vehicle registration.​ If your registration expires in December 2022 and you want a Keep Colorado Wild Pass, you may wait until January 2023 to renew (your grace month). However, it is not recommended that you drive out of state on expired tags as other states may not honor the grace month.
How to get your Keep Colorado Wild Pass
The Keep Colorado Wild Pass will only be offered at the time of your annual vehicle registration renewal or first-time vehicle registration.
The $29 fee will automatically be included in the price of your renewal or first-time registration unless you opt out. You can choose to opt out regardless of how you renew your registration (online, at a self-service kiosk, or by mail/drop box). If renewing by mail/drop box, your renewal postcard will have two prices listed – both with and without a pass. If you choose to opt out, your vehicle will remain opted out indefinitely, but you may choose to opt back in at renewal time.
How to use your Keep Colorado Wild Pass
Your vehicle registration card will serve as your Keep Colorado Wild Pass. A Colorado Parks and Wildlife logo will be printed on your vehicle registration card, which you will need to show at any staffed entry station. If there is no staffed entry station, you may need to display your registration card on your dashboard.
The pass is not transferrable between vehicles as it is linked to your license plate and registration card. If you wish to use additional vehicles to enter state parks, you will need to purchase passes for those vehicles as well.
If entering a state park by bike, on foot, or by shuttle, you must carry your vehicle registration card with you or show your your registration in the MyColorado app. Your Keep Colorado Wild Pass will cover the entry fee for you and up to three other individuals aged 16 and older (entry for children younger than 16 is free).