NEW – US 287 Bus Rapid Transit Feasibility Study available for public review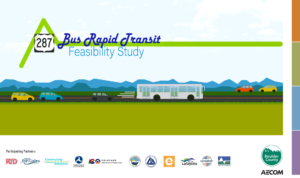 In collaboration with our many agency partners and local communities, Boulder County presents the US 287 Bus Rapid Transit Feasibility Study (full study)(executive summary) for public review. Over 18 months, the project team worked with technical staff, elected officials and members of the public to create a vision for US 287 with Bus Rapid Transit (BRT) as a central component.
This corridor is important to serve people living, working, and traveling to/from the growing communities and key destinations along the corridor and beyond, offering connections with other local and regional transit routes. The US 287 corridor serves as the north/south spine of the Northwest Area Mobility Study's (NAMS) network of regional BRT routes and by enhancing transit service along the US287 corridor, this creates the opportunity to increase transit ridership countywide given the many inter-connecting routes throughout the region.
Community engagement played an important role in shaping this study, including the proposed recommendations and next steps to phase in regional and inter-regional transit improvements along the US 287 corridor. Through this planning process, we heard from the public that in addition to improved transit services, safety is important for all users along and crossing US 287. To address these safety concerns, the county along with our agency partners are now kicking off the next phase of the US 287 corridor planning process which focuses on Vision Zero Safety & Multimodal Mobility study.
We encourage you to look through the US 287 BRT Feasibility Study and use the link to the form below to share your thoughts on the document, and provide your input on what is important moving forward and other suggestions for the project team. We also invite you to continue participating in the US 287 Phase II safety study.