The Boulder County Mountain Addressing System is based on a mile-point/street-name system designed to expedite emergency response.
A mountain address atlas of house locations has been issued to all Emergency Services Information and is periodically updated by the Sheriff's Office. It is important that you clearly display the "green" address plate at your entrance. It is important that the county-assigned physical address number for the property be clearly visible from the front property entrance or driveway.
Your assigned address informs emergency and other services how far your driveway is from the starting point of your street. For example, 1138 Poorman Road is 1.138 miles up Poorman Road from Sunshine Canyon Drive. Even numbers are on the right and odd numbers are on the left.
To have your property address assigned or verified, please contact Community Planning & Permitting via the Ask a Planner form, or call 303-441-3930.
Displaying Your Property Address or Boulder County Address Plate
Your address should be displayed at the junction of your driveway and road where emergency vehicles can easily see it. It should be made of metal, with white numbers displayed on a colored background (red, green, or blue). Your marker should be reflective and double sided so it can be seen from either direction.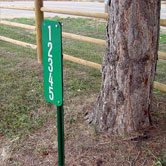 The address plate should withstand all weather conditions, and should be posted on a feature that will not readily burn, like a metal t-post (see photo). Painting or etching numbers on natural features such as rocks and trees is not permitted.
Obtaining County Address Identification Plates
To obtain address plates, either contact your local fire chief, purchase from a local hardware store, or order online.
If you have any questions regarding the Mountain Addressing System, please contact Wildfire Partners at 303-441-1420 or email info@wildfirepartners.org.