Join us in October for activities that explore how planning benefits the community and helps make Boulder County awesome!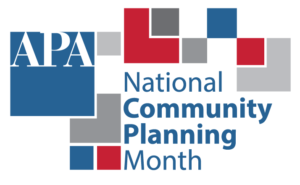 October is National Community Planning Month. Planning is the process of envisioning, mapping or otherwise conceiving of how a community will look, grow, and define itself, and much of what makes Boulder County a special place has been the result of decades of careful planning. From where you live, to how you commute, to the type of home you live in, planning helps shape the community around us.
Due to COVID-19, the Community Planning & Permitting Department is offering two self-guided activities in 2020:
Boulder County Historic Sites Self-Guided Tour
Discover all of the unique historic and cultural sites that Boulder County has to offer through this self-guided tour. The guide allows you to tour the county either geographically or by theme:
Planning Highlights Self-Guided Bike Tour 2020
Follow the Google Map tour or turn-by-turn directions list, and view the tour information.
Background
October is designated as National Community Planning Month by the American Planning Association as a way to highlight the role of planners and planning in each community. The month-long celebration is an opportunity to recognize how planning shapes Boulder County, and the work of planners and the planning profession in creating communities of lasting value.
As our communities continue to change and grow, planners play an important role in ensuring that new developments are designed and built in harmony with existing surroundings. Planners must carefully balance the needs and desires of residents against the challenges presented by growth and change not just in the physical realm, but also economically and socially. Planning also strives to give residents choices. From the type of home an individual lives in, such as a condominium, apartment, town home or single family, to how an individual gets around, whether taking mass transit, walking, bicycling or driving, planning helps ensure communities address the needs of everyone.
For more information, or if you have questions on planning in Boulder County, please call 303-441-3930, or email using the Ask a Planner form.