The Boulder County Mosquito Control District (BCMCD) was established in 1995 by ordinance by the Board of County Commissioners to protect residents from the health risks, annoyance, and discomfort associated with mosquitoes.
Meeting Schedule
The second Wednesday of the month
April – October
6 – 7:30 p.m.
Attend virtually
Meeting ID: 211 545 619 400
Passcode: oPHktE
Call in: 720-400-7859, 507305989#
Annual Reports
BCMCD Survey Results
The Boulder County Mosquito Control District surveyed residents in 2023 to gather feedback on mosquito control practices. The responses overwhelmingly indicated that people want mosquito control to continue. Many stated that mosquitoes negatively impacted their ability to enjoy the outdoors.
Residential District
The Boulder County Mosquito District encompasses approximately 180 square miles of eastern Boulder County. Because the residents who live within this district pay for mosquito control services, Boulder County can only provide mosquito control service to those persons residing within the district.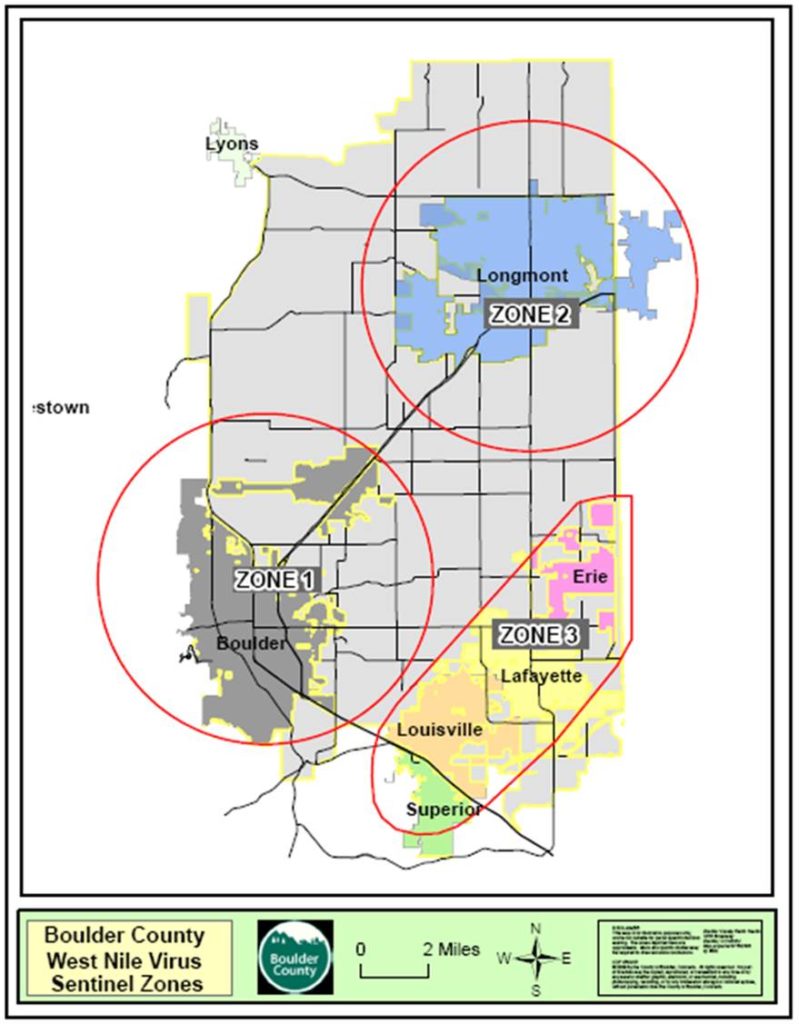 Printable Map of Boulder County Mosquito Control District
The Boulder County Mosquito Control District (BCMCD) Program is overseen by a citizens' advisory board which is appointed by the Boulder County Commissioners.
Key Components of Boulder County Mosquito Control
Services that are available, upon request, to those living within the Boulder County Mosquito Control District include:
Integrated Pest Management
The board promotes an integrated pest management program, collaborates with agencies to control mosquito-borne diseases, educates residents in the BCMCD to help identify and reduce mosquito breeding sites around their homes and neighborhoods, and advises the County Commissioners and Boulder County Public Health on mosquito control activities and needs.
Environmentally Responsible
The Boulder County Mosquito Control Program (BCMCP) is one of the most environmentally-conscious programs in the nation. Mosquito control services in Boulder County are contracted to a private company, Vector Disease Control International (VDCI).
VDCI utilizes an integrated pest management approach to safely and effectively reduce mosquito populations. All mosquito control materials used in Boulder County have been shown to be non-carcinogenic by the National Cancer Institute, and are registered for use by the Environmental Protection Agency (EPA).