National Trails Day Volunteer Projects
Description
Celebrate National Trails Day by volunteering with Parks & Open Space! We have the following volunteer projects planned to maximize impact this trails day.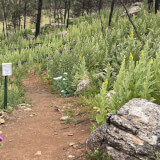 Trailside Clearing
Friday, June 2, 5-8 p.m.
Help us Celebrate National Trails Day a little early! We will be taking a small group of volunteers with gas-powered weed whips to clear the edges of the trails at Heil Valley Ranch. Join us to help keep Heil Valley Ranch trails clear.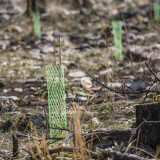 Wildfire Recovery Ponderosa Pine Survival Counts
Saturday, June 3, 9 a.m.-noon
With the support of a dedicated volunteer community, we planted 3,598 Ponderosa Pine Seedlings at Heil Valley Ranch for Cal-wood Fire restoration in 2022. Monitoring their survival is crucial for informing future planting efforts and guiding wildfire recovery management. Join us as we monitor the success of our restoration efforts.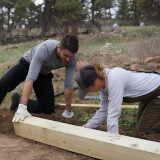 Trail Work Event
Saturday, June 3, 10 a.m. - 3 p.m.
Help us reduce trail mud by building raised turnpikes, closing unnecessary trail braiding, and quarrying rocks to improve trail conditions and minimize closures. Lunch provided. Sign up now and make a positive impact on our trails at the Ron Stewart Preserve at Rabbit Mountain!
Event Details
Start dateJune 3, 2023 12:00 amEnd dateJune 3, 2023 12:00 amCalendarHikes & Events, Parks & Open SpaceGoogle Calendar