We want to showcase your work!
Contest
Show us your unique creations using our reuse materials. Entries must use at least one product from the Reuse Area at the Boulder County Hazardous Materials Managment Facility (HMMF). Reuse materials available free of charge during normal business hours: Wednesday, Thursday, Friday and Saturday, 8:30 a.m.-4:00 p.m. CLOSED: Sunday, Monday and Tuesday.
A winner will be selected randomly on a quarterly basis and receive a gift card. Winners will be notified by email or phone. Entry photos may be displayed in the Reuse Area, on the web, social media, etc.
Submit an Entry
Please include: photo of your creation, your name, contact information and tell us what materials were used from the Reuse Area.
Send submissions to: sfuller@bouldercounty.org or drop off your submission at the HMMF during normal business hours, Wednesday – Saturday, 830 a.m.-4:00 p.m., 1901 63rd Street, Boulder, CO.
Permission
By submitting an entry, Boulder County has permission to use the photo in print, on the web and social media, etc. along with the contestant's name.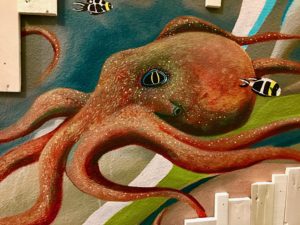 Winning Entries
Congratulations to our second quarter Reuse in Action Winner Glenn Grassi. The underwater artwork was done using recycled paints for the whitewashed wood and the mural.
Previous Winning Entries

Denise Vezza-Maggiore – Congratulations to our first quarter Reuse in Action Winner. This 3-D art wall puzzle is an interactive art installation using recycled paint from the HMMF. This creative work is a coordinated effort with five other area artists which was featured at the following events in 2016 – RockMont Festival in Longmont, Figment in Boulder, Festival on Main in Longmont and The Farm Stand Band Event in Berthoud.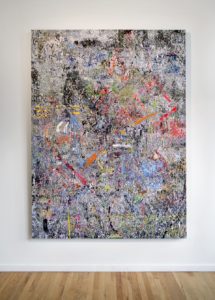 Drew Williams – congratulations!
Drew used paint from the Hazardous Materials Management Facility's Reuse Area to create this piece of art.