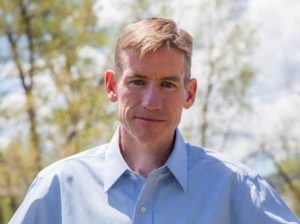 Michael Dougherty
Twentieth Judicial District, 2018-March
Democrat
After graduating from Nassau Community College, Michael Dougherty attained his undergraduate degree from Cornell University in 1993. He graduated from Boston University School of Law in 1997. From 1997 through January of 2010, Mr. Dougherty served as a prosecutor with the Manhattan District Attorney's Office. Assigned to the Trial Division, Mr. Dougherty specialized in the prosecution of sex crimes and handled homicide cases. In 2006, District Attorney Robert M. Morgenthau appointed him to the position of Deputy Chief of the Sex Crimes Unit, where he assisted in the training and supervision of forty-five sex crimes prosecutors until being promoted to Administrative Assistant District Attorney. Mr. Dougherty was responsible for the management, budget, and personnel of the District Attorney's Office. During his time as Administrative Assistant, he continued to prosecute cases. In addition, he represented prosecutors accused of misconduct in proceedings before the Disciplinary Committee.
Mr. Dougherty joined the Colorado Attorney General's Office in 2010. He served as the supervisor of the Colorado DNA Justice Review Project in the review of post-conviction cases of forcible rape, murder, and non-negligent manslaughter to determine whether biological evidence exists that might, through DNA analysis, demonstrate actual innocence.
In 2011, Mr. Dougherty became the Deputy Attorney General of the Criminal Justice Section. He supervised several units, including Special Prosecutions, Homicide Assistance, Environmental Crimes, Financial Fraud, Securities Fraud, Insurance Fraud, Medicaid Fraud, and the Peace Officer Standards and Training Unit. He served on the Colorado Commission on Criminal and Juvenile Justice and a variety of task forces, as well as the Cold Case Review Team.
Mr. Dougherty has provided many trainings and workshops, on a wide variety of topics. In 2006, he lectured to investigators and prosecutors at the Supreme Prosecutor's Office of South Korea. As an Adjunct Professor at Fordham University, Mr. Dougherty taught courses on Constitutional Law and Criminal Procedure. He is currently serving as an Adjunct Professor for the University of Denver Sturm School of Law. He is a member of the Colorado Best Practices Committee for Prosecutors.
In January of 2013, District Attorney Pete Weir appointed Mr. Dougherty to serve as Assistant District Attorney for the First Judicial District. He managed the budget, identified and addressed personnel issues, handled the day-to-day operations of the Office of the District Attorney, prosecuted cases as assigned, and acted as a liaison with law enforcement agencies, the courts, victims' groups, and the public. In March of 2018, the Governor appointed Mr. Dougherty to serve as the District Attorney of the 20th Judicial District (Boulder County). In the November 2018 general election, he was elected Boulder County's District Attorney.