Real-time arrival information signs coming soon to a Boulder County bus stop near you!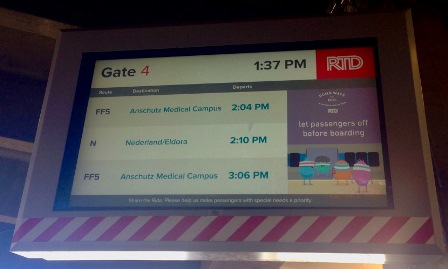 Real-time arrival information signs (like the one pictured above) display expected arrival time of a bus based on GPS hardware that transmits the vehicles actual location.
Thanks to a Colorado Department of Transportation (CDOT) grant, Boulder County will soon be installing several Public Information Displays (PIDs) throughout the county. PID signs display real-time transit arrival information (and other pertinent bus-related items) at major RTD bus stops and Park-n-Ride locations. This will allow riders to see an estimate of when the next bus will arrive.
Learn more about RTD's real-time schedule program.

Boulder County Contact
Scott McCarrey – 720-564-2665 – smccarey@bouldercounty.org