'Wildfire Partners' Tour of Homes – Saturday, Sept. 30
Tour allows an opportunity for people to visit participating Wildfire Partners properties in their community and to check out practical wildfire mitigation measures firsthand
Boulder County, Colo. - More than 1,400 Boulder County homeowners have been working hard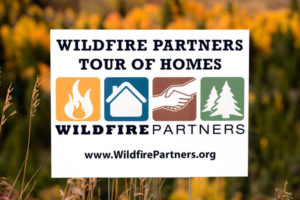 to prepare for future wildfires and to create more resilient communities as
part of Boulder County's Wildfire Partners program. On Saturday, Sept. 30,
several Wildfire Partners are inviting interested neighbors and community
members to come see mitigation work in action as part of the 2017 Wildfire
Partners Tour of Homes.
Visiting homes and talking to neighbors is an ideal way for
residents to gain invaluable insights and be inspired to take action. Participating homes, with photos and directions, are listed at www.WildfirePartners.org.
Sixteen Wildfire Partners homeowners from the following
communities are participating in the tour: Allenspark, Boulder Heights, Coal
Creek Canyon, Fourmile Canyon, Nederland, Sugarloaf and Sunshine Canyon. These
homeowners have participated in an on-site assessment with a Wildfire
Mitigation Specialist and performed significant mitigation. Many have completed
their customized Mitigation To-Do List, passed their follow-up inspection, and
received their Wildfire Partners Certificates.
What: Wildfire Partners 2017 Tour
of Homes
When: Saturday, Sept. 30 from
10 a.m. – 2 p.m.
Where: Boulder
County foothills and mountains
Believing is seeing and seeing is believing,
according to past participantBeth Lammers:
I came to the 2015 Wildfire Partners Tour of
Homes and was convinced that our community could reduce its risk with the help
of Wildfire Partners. I was so excited that I spoke with a neighbor, and she
went around the neighborhood and gathered up a group to go back to the tour so
everyone could talk to the homeowner and the Wildfire Partners representative
to learn about the program. Within the past year, over half of our residents
have signed up for an assessment and five have obtained their Wildfire Partners
Certificates.
Wildfire Partners, the county's mitigation program, provides
homeowners with significant technical and financial support. The program is
funded by participating homeowners, Boulder County, a $1.5 million grant the
Colorado Department of Natural Resources and a $1.125 million grant from FEMA's
Hazard Mitigation Grant Program.
Homeowners are joining Wildfire Partners and investing their
time and their own funds in mitigation for a wide range of reasons, including
increasing the insurability of their homes, increasing the safety and
effectiveness of their local fire departments, and improving the chances their
homes will survive future wildfires. Visit www.WildfirePartners.org to learn
more about the program.
The scheduled tour signals the beginning of October Wildfire
Awareness Month. Boulder County declared October as Wildfire Awareness Month in
2011 based on a recommendation from residents to help educate the community and
promote individual responsibility in preparing for future wildfires.