Boulder County wins nine NACo Achievement Awards
Boulder County has been recognized with nine 2018 Achievement Awards from the National Association of Counties (NACo). The awards honor innovative, effective county government programs that strengthen services for residents.
NACo recognized the following Boulder County programs: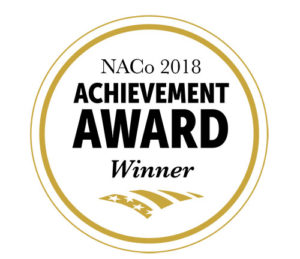 Ballot Box Tracking System
Bank on Boulder County
CJS Family Navigator Program
Mayhoffer Farm Acquisition
Niwot Cycletrack
Opioid Advisory Group
Regional Housing Strategy – Best in Category
Road & Creek Integration
SNAP Outreach Plan
Nationally, awards are given in 18 different categories that reflect the vast, comprehensive services counties provide. The categories include children and youth, criminal justice, county administration, information technology, health, civic engagement and many more. Since 2009 – when an online tracking system was started for the awards– Boulder County has been the recipient of 89 NACo Achievement Awards.
NACo President Roy Charles Brooks said, "Counties seize opportunities to deliver services more efficiently and build stronger communities every day. Achievement Award-winning programs are examples for counties that are determined to enhance services for our residents."
NACo will recognize award-winning counties at its 2018 Annual Conference and Exposition July 13-16 in Nashville, TN. The Boulder County Board of County Commissioners will hold an award ceremony locally after the annual conference.
For more information about Boulder County's participation in the NACo Achievement Award process, contact Gabi Boerkircher at gboerkircher@bouldercounty.org or 303-441-3399.