COVID-19: Managing the Mental Mayhem
What is COVID-19: Managing the Mental Mayhem?
COVID-19: Managing the Mental Mayhem is a series written by Dr. Lori Kleinman and presented by Boulder County Public Health. This series aims to provide easy-to-adopt tips for living a healthier life while dealing with uncertainty, stress, grief, change, restlessness and more during the COVID-19 pandemic. Look for new posts on Facebook, Instagram and here each Monday.
Meet Lori Kleinman, PhD
Lori Kleinman, PhD, is a licensed psychologist, music therapist and founder of LIVIBRANCE. She has over 35 years of experience providing mental health services and consultation. She has a private clinical practice. She also provides immediate disruptive event and critical incident response to organizations. In addition, Dr. Kleinman gives public speaking and keynote presentations on mental health, consults with executives and organizations, and creates customized wellness programs.
Dr. Kleinman has a Doctorate in Counseling Psychology, a Master's in Counseling and Human Systems, and a Bachelor's in Music Therapy. She holds certifications and specialized training in many areas such as stress management, trauma psychology, health psychology, work-life management, compassion fatigue, grief, suicide prevention, relationships, communication, executive coaching, leadership development, performance enhancement, hostage negotiation and combat stress mitigation.
While an officer and psychologist in the United States Air Force, Dr. Kleinman implemented numerous prevention programs. She worked directly with joint forces in the aftermath of 9/11. She provided training to leadership and squadrons and coordinated disaster mental health services. She also wrote USAF suicide prevention training manuals and led suicide prevention programs. She helped create and facilitated the Women's Wellness Conference. In addition, Dr. Kleinman was a member of hostage negotiation teams and was the first psychologist to work directly with USCENTCOM and USAF fire departments.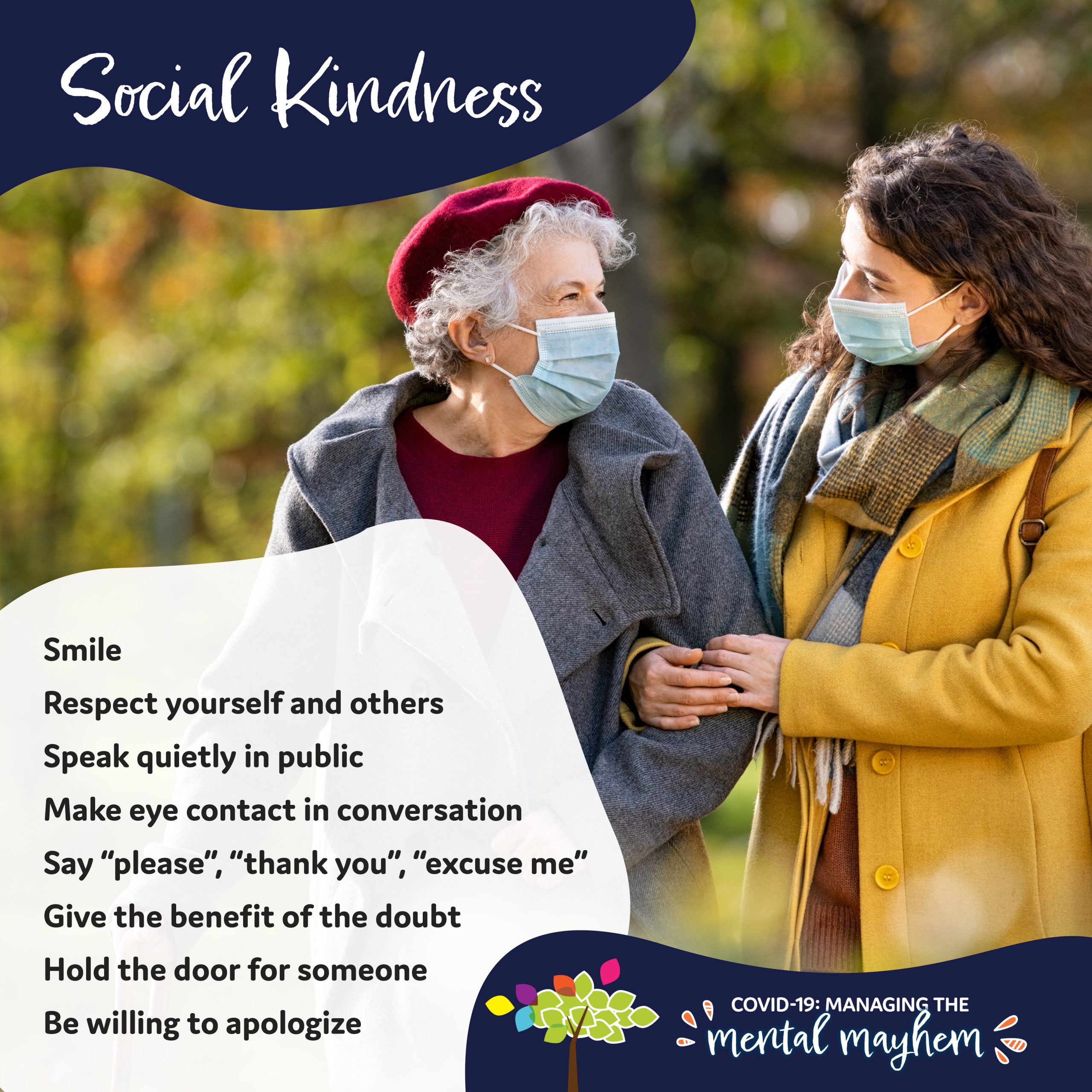 Read more: Social Kindness
Social Kindness
Social kindness refers to the ways we act when we are with other people, including strangers. It is natural for each of us to focus on our own thoughts and needs in public. We are busy running errands and focused on our own activities. However, following some basic social graces can greatly enhance our experience. It helps us to feel good and can reduce our stress level.
There are numerous terms for social kindness, including social graces, etiquette, and polite behavior. No matter what we call it, social kindness means that we are showing respect for ourselves and for others around us. We show others respect by being considerate. We show ourselves respect by managing our responses and keeping our mood and attitude uplifted.
An easy way to show social kindness is to smile. Smiling is a natural behavior, yet we don't smile naturally when we feel stressed or annoyed. Did you know that you can lift your mood simply by deciding to smile at people when you pass them in public? One way to do this is by focusing on pleasant thoughts and experiences. Our thoughts influence our mood and behavior, so be aware of your thoughts when in public. Thinking is automatic until we pay attention to our thoughts. Then they become a behavior that we can change. You can choose what you think about and how you respond in public.
Smiling is considered a "nonverbal behavior." It is often effective in helping other people to feel calm, as well as lifting our own mood. Other nonverbal behaviors that express social kindness are making eye contact and holding the door open for others when entering or exiting.
Verbal behaviors that express social kindness include speaking quietly in public. Keeping our voice at a reasonable level is respectful of the people we are with as well as strangers. In addition, saying "please," "thank you," and "excuse me" when appropriate create comfort and ease. There are no guarantees, but we are more likely to have pleasant experiences when we use polite language with others.
Our attitude towards others also expresses social kindness. When we apologize for something we've done in error, we show respect for those affected. We also reduce our own stress by taking responsibility for our mistakes. Another way to express social kindness and do good for our own mood is to give the benefit of the doubt. There are many reasons why we or others may act in a "rude" way. Of course, there are some people who lack consideration for other people. However, most people make mistakes socially because they are tired, preoccupied, unaware, anxious, or running late. When we give the benefit of the doubt, we release our tension and give them the chance to release some of their tension.
Ultimately, we can't control what other people do, but we can choose our own attitudes and behaviors. When we make the choice to practice social kindness, we maximize our opportunities for uplifting experiences, improve our mood, and reduce our stress level.
Wishing you ease, comfort and social kindness,
Dr. Lori Kleinman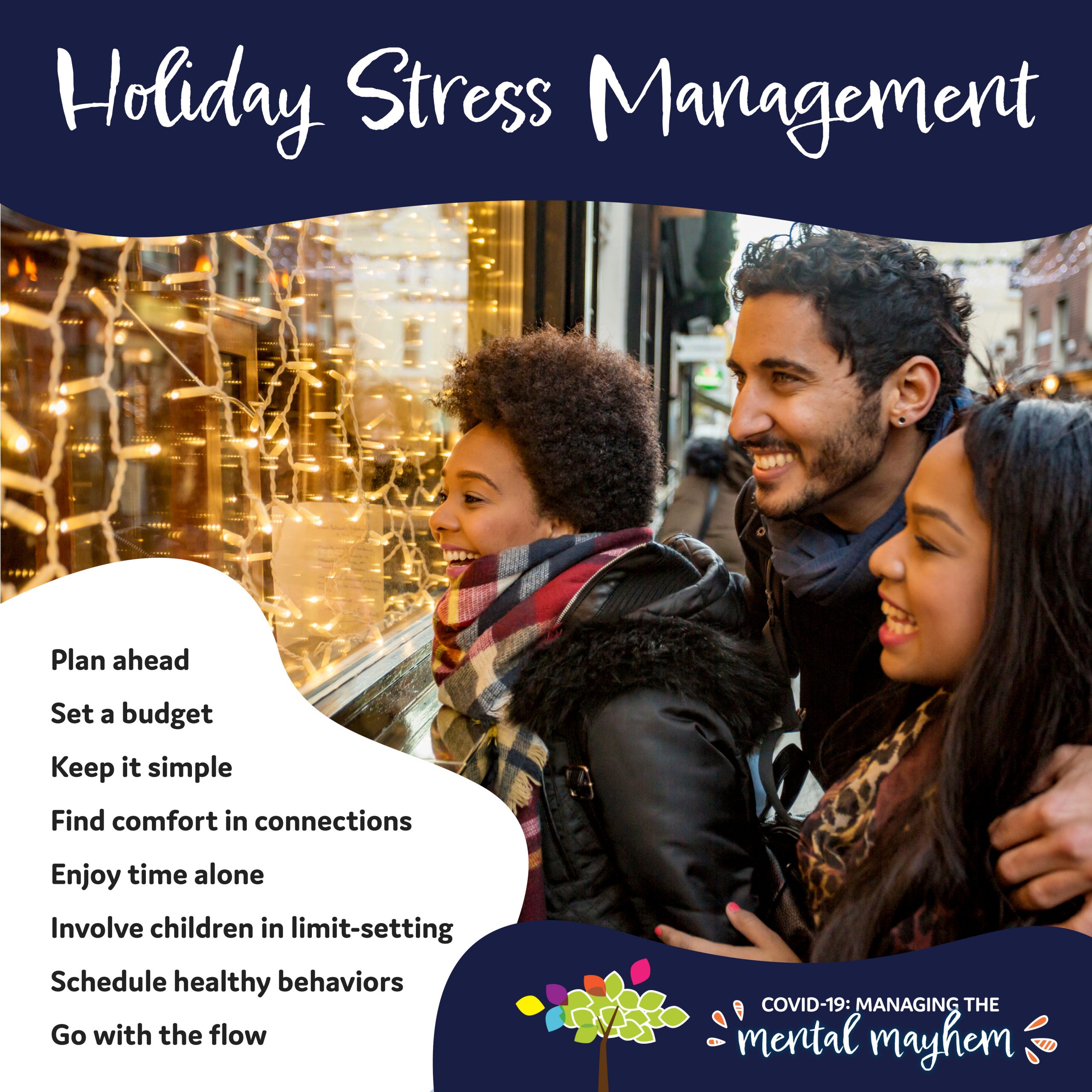 Read more: Holiday Stress Management
Holiday Stress Management
Here we are at the start of the Holiday Season. Whew. Get Ready!
The Holiday Season means many different things to each of us, yet most of us agree that stress increases during this time of year. As the season begins, it is helpful to set some guidelines to cope with and reduce stressors.
One of the best ways to reduce holiday stress is to plan ahead. Set aside some time specifically for planning. Consider what you want and need to accomplish in the next month or so. Write down action items and then strategize how you will address each task on your list. For example, if you list "get gifts for family", then follow-up by listing each person's name, a budget for each gift, ideas for gifts, and where to find the gift.
Setting a budget is always a good idea. It's especially helpful during the holidays, when we are bombarded with advertising, decorated homes, our children's requests, and our own expectations. Identify how much money you can spend in total, then separate amounts into categories such as holiday meal, gifts, decorations, etc. Consider gifts that don't cost money. For example, assemble a digital photo collection or make coupons for acts of service such as a massage or homecooked meal.
Keep it simple. That says it all. Create one or two special experiences and memories instead of trying to do everything. We can easily overload ourselves with expectations. Notice how calming it is to simplify everything from meals to decorations to gifts.
One of the big Holiday stressors is interpersonal relationships. Family gatherings can be fun and stressful, and the pandemic is another potential added stressor. Identify the most important people in your life who will be part of your holiday experiences. Recognize where you may need to set limits. Let important people know how you will and won't be available. For example, choose to have only immediate family at your holiday dinner. Once you share your plans, focus on manifesting them. Be prepared to kindly explain your choices but remember there's no need to defend your decisions.
We also benefit from time alone. Our minds and bodies learn how to relax and reset when we appreciate time alone. Consider brief moments as well as long stretches of time. Some of us have reduced options to be alone, and others can feel isolated with many hours alone. Find your own pace, keeping in mind the benefit of deciding to enjoy your time alone.
Children often get quite excited about the holiday season. They may want to do everything possible and ask for many gifts. This is natural. You are the parent, so you get to set the limits for them. Give your children options within clear boundaries. For example, ask them whether they want to go to see Santa at the park or at the mall, or ask them if they want a candy cane or a chocolate Santa. You can let them make a gift wish list, then work with them to narrow down the choices.
Schedule the behaviors that you know keep you and your family healthy. Schedule time for exercise, preparing meals, cleaning your home, resting, and paying bills. It may not sound like fun, but it will calm your nervous system and leave you feeling more in control of your days. Look for ways to make chores more enjoyable. For example, have a race to see who can make their bed the fastest, or go for a walk in your "ugliest" holiday sweater.
There's a phrase "go with the flow". Going with the flow means that we control what we can and then let go of the rest. This is a busy time of year, and emotions can be more intense than usual. Know that, accept it, and adjust your expectations to allow for both joy and disappointment. Take it easy, be kind to yourself with your thoughts, and cut others some slack. It will help reduce your stress and increase your pleasure.
Wishing you good health, comfort, and Happy Holidays,
Dr. Lori Kleinman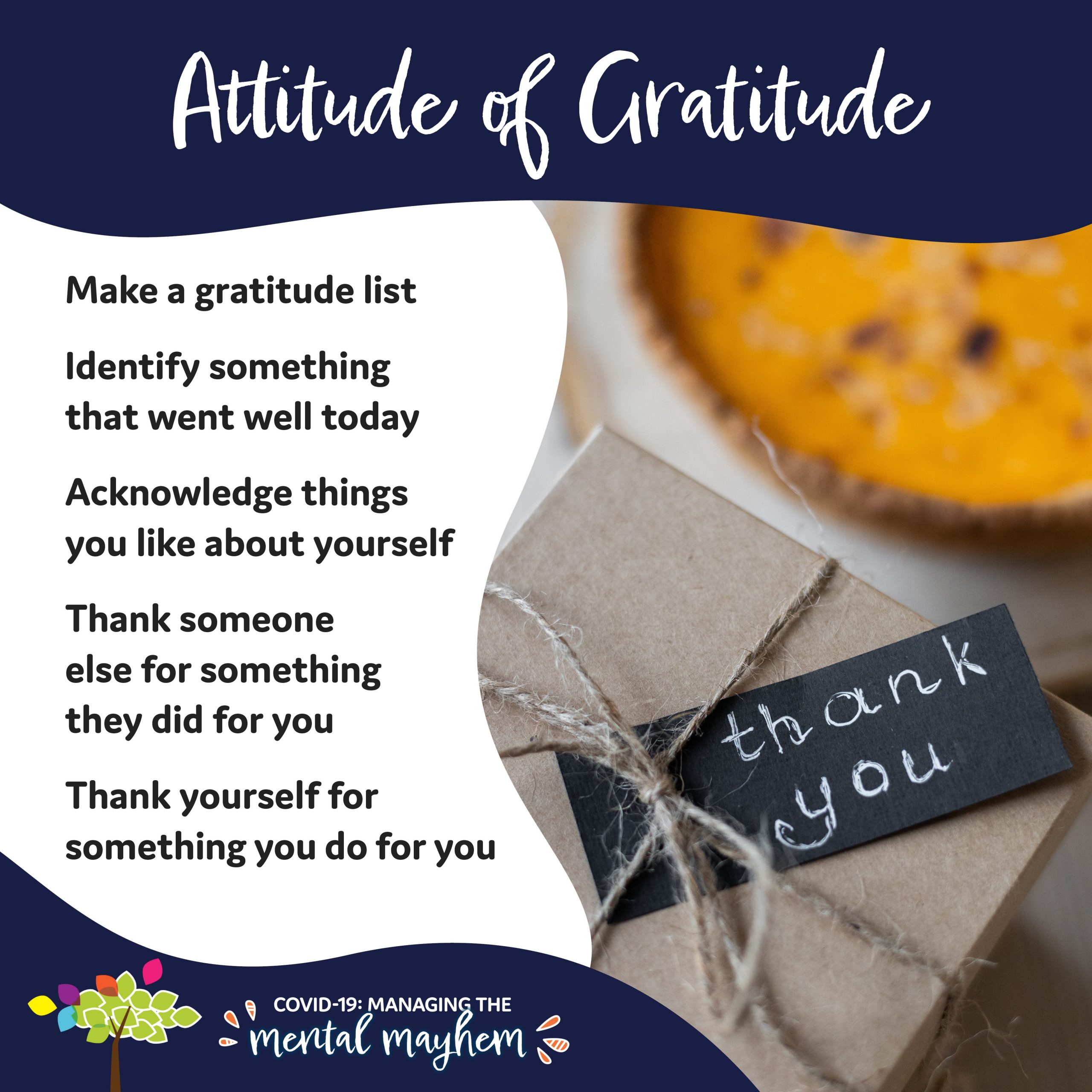 Read more: Attitude of Gratitude
Attitude of Gratitude
Did you know that being grateful is good for your health? When we recognize what we appreciate, our body and mind relax. This occurs whether we say our grateful thoughts out loud or think them silently. Saying "thank you" to someone, even ourselves, feels good and does good for us.
One way to recognize what we are thankful for is to make a gratitude list. Simply write down things and people and experiences you appreciate. It is a quick way to lift your mood. In addition, as we acknowledge what we appreciate, we begin to focus our lifestyle in ways that bring more appreciation. We begin to attract more uplifting experiences into our life because we are more aware of them.
Another way to feel grateful is to identify something that went well in your life each day. It can be something major or minor. For example, "I'm grateful for having time with a friend today," or "I appreciate that my boss recognized my work on this project".
Many of us have difficulty recognizing things we like about ourselves. We can tend to focus on "what's wrong' more than "what's right." Practice acknowledging things you like about yourself and notice how much better you begin to feel. Be realistic and self-compassionate. If you're having difficulty identifying things, ask someone who knows and loves you what they like about you. Or you can imagine yourself in their position and recognize why they might like being around you.
Saying "thank you" is a great way to connect with other people. It is also a great way to practice gratitude. When we acknowledge someone else, we let them know we like what they did. This increases the chance that they will do it again. It also helps them feel uplifted. It's a great way to feel good ourselves while also helping someone else to feel good.
Saying "thank you" to ourselves is also important. Acknowledge things you are doing for your health and wellbeing. Show yourself gratitude for your work ethic, your commitment to your children, putting nutritious food into your body, exercising your body, and anything else you are thankful for in your relationship with yourself.
Wishing you good health, comfort and a Happy Thanksgiving,
Lori Kleinman, PhD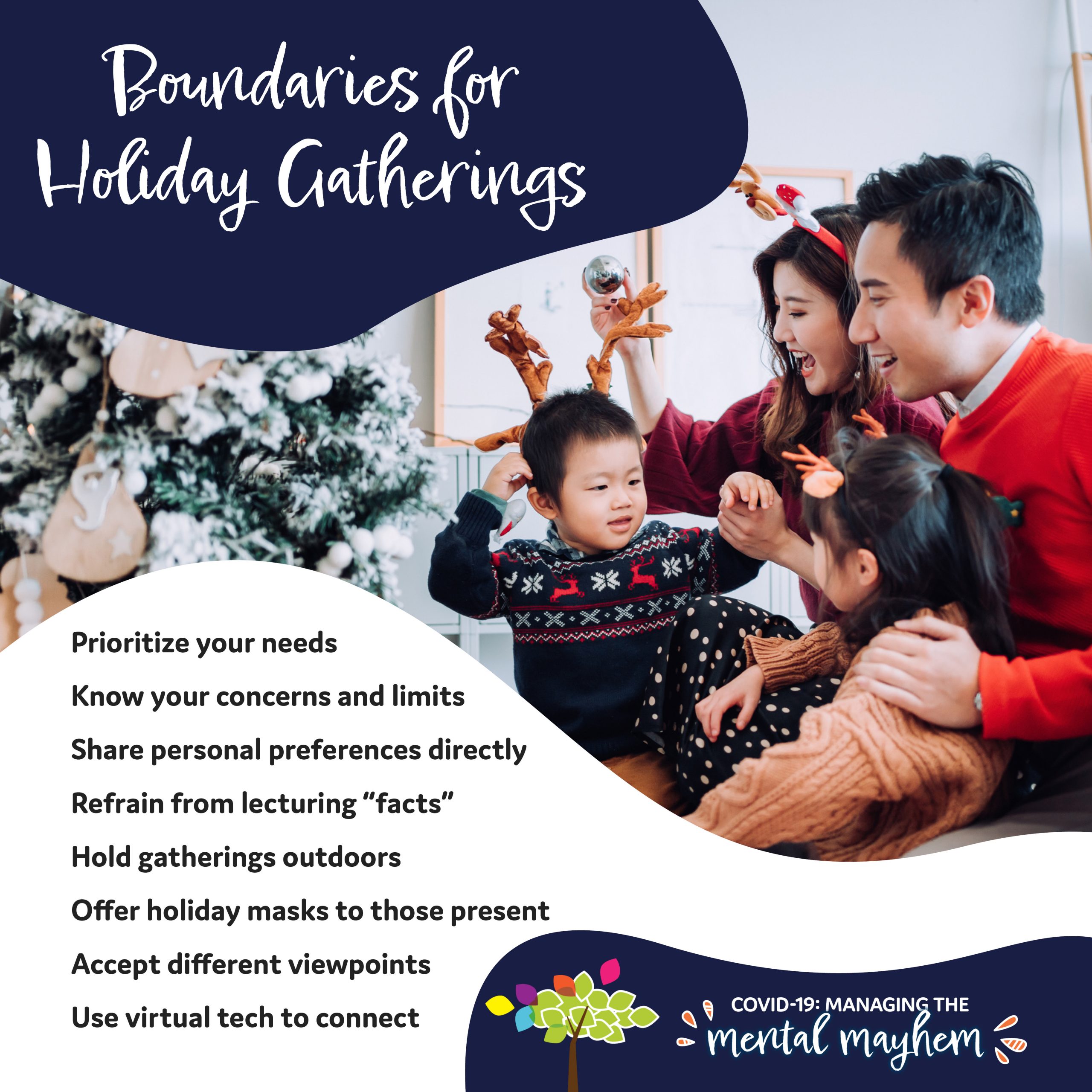 Read more: Boundaries for Holiday Gatherings
Boundaries for Holiday Gatherings
Planning for the holidays can be both exciting and stressful. As the pandemic continues, we may find it challenging to set boundaries with family and friends. We want to enjoy holiday festivities and gatherings, yet we may have different opinions about staying safe from COVID.
There are many ways to set boundaries while showing respect and caring for others. Be aware of your own concerns about safety. Know your limits regarding physical contact, size of gatherings, etc. Once you know your concerns and limits, think about your needs during the Holiday Season. Be clear with yourself about your priorities. For example, if you value time with family and creating memories together, set that as a priority. Then explore ways to make those experiences happen without compromising your limits.
You may decide to skip dinner with extended family and instead recommend everyone go caroling around your neighborhood together. Afterward, you can serve hot chocolate outdoors before saying goodnight. This brings everyone together while allowing for physical distancing as needed.
Encourage others in your group to make suggestions as well. As you share your preferences directly, it allows others to share their preferences, too. Personalize your preferences instead of quoting scientists or newscasters. For example, you could say, "it's so important to me to limit in-person contact because I believe that will help me to stay as healthy as possible." You could also say, "There are different perspectives, and I accept that. I'm also asking you to accept my perspective, even if you disagree." Or, "there are so many ways we can make memories, let's do so where each of us can have our concerns respected."
When we share what matters to us personally, it encourages others to feel compassion and acceptance. This is different than "lecturing" each other, which usually increases feelings of separation and even resentment. Also, when we show respect for differing viewpoints, it encourages others to do the same. Rather than arguing, we can say, "I understand that we may have different beliefs and knowledge about covid. I accept our differences and hope that each of us are willing to adjust to whatever decisions work for everyone involved."
Think about creative ways to interact during the Holidays that allow everyone to feel comfortable. You may experience different opinions in your family about wearing masks during your gathering. You might suggest a Holiday mask contest with fun prizes, or you might have Holiday masks available and as each guest to wear one as part of the Holiday cheer. It can be awkward, so acknowledge that. Know that everyone is doing their best to cope. If you absolutely cannot agree to a plan that feels good to everyone involved, consider using virtual methods to connect socially while keeping physically distanced. Your goal is to have enjoyable experiences and reduce tension by acknowledging and accepting each other, including your differences.
Wishing you good health, comfort and Happy Holidays,
Dr. Lori Kleinman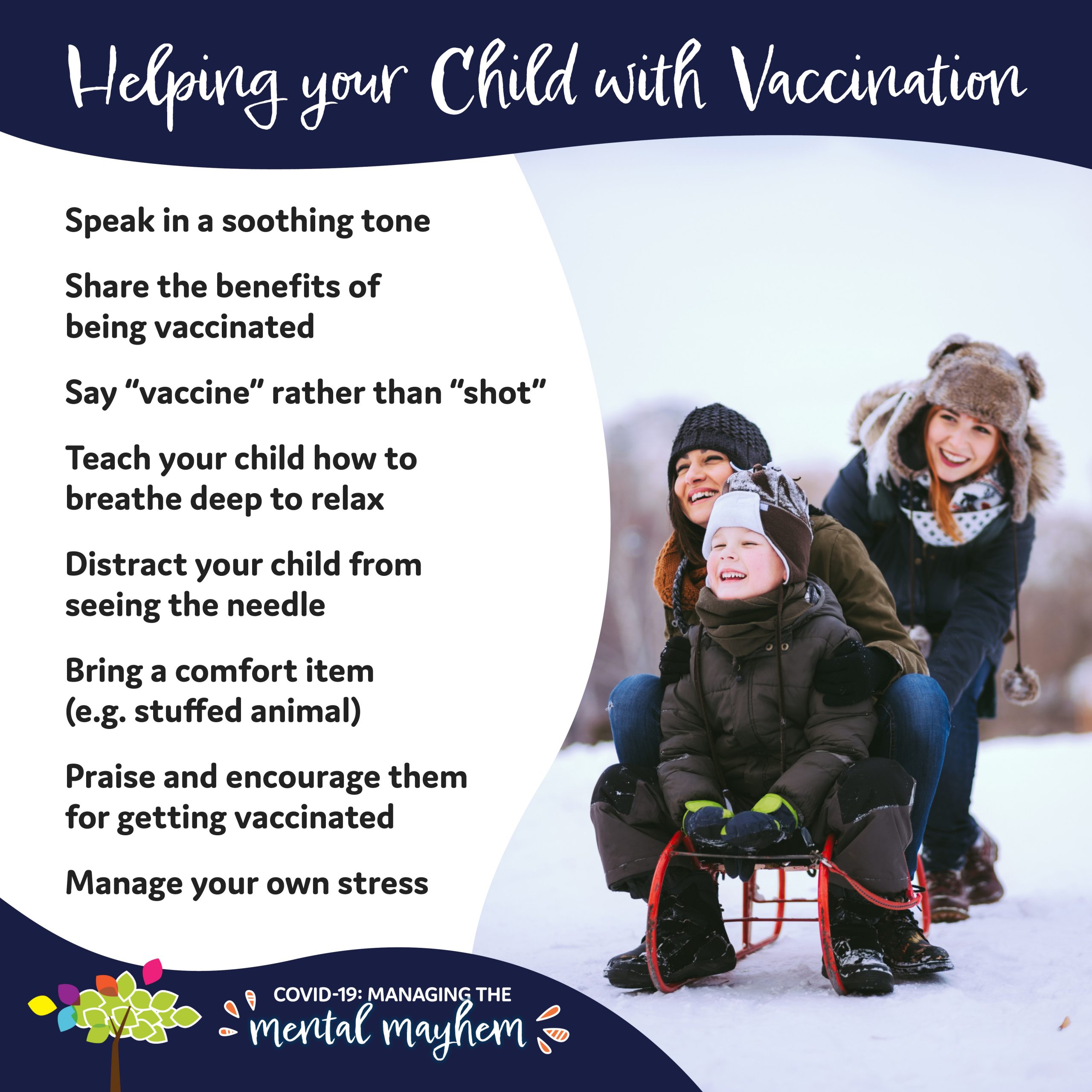 Read more: Helping your Child with Vaccination
Now that COVID-19 vaccines have been approved for children ages 5-11, you may be wondering how to help your child with the vaccination process. It is natural for all of us to feel some nervousness or anxiety about getting a "shot".
Did you know that inoculation has existed for thousands of years? What we now call vaccines, a more specific type of inoculation, have existed for hundreds of years. Although the COVID-19 vaccine is new, methods of developing effective vaccines are longstanding.
We strive to protect our children, and vaccination is a very effective way of protecting them from harmful, and possibly lethal, viruses and diseases. There are many things we can do to help our children feel safe and secure as they get vaccinated.
So, how can we help our children with vaccinations?
Speak with them in a soothing voice tone. Children respond to the sound of our voice even more than the words we are saying. Approach them with a soft voice, simple phrases and a moderate pace of words. Your goal is to provide a relaxed atmosphere as you talk with them.
Share with them the benefits of being vaccinated. For example, it will help their body to be strong on the inside, and it will help them keep other people safe. For young children, you can even suggest that the vaccine gives them superpowers against the virus.
Call it a "vaccine" rather than a "shot". The words we use carry images for each of us. The word "shot" can sound alarming, especially if our child associates it with a gunshot. The word "vaccine" is very specific, so you can help your child develop meaning for that word. The meaning of "vaccine" relates to good health, keeping our body-safe, etc.
Teach your child how to use deep breathing and other relaxation techniques. Slow deep breaths and relaxed muscles tell our body and mind to relax. We can model deep breathing by doing it with our children. We can also have them imagine blowing bubbles through a small bubble wand.
Distract your child from seeing the needle during the vaccination. Continue talking to them in a soothing voice, suggest they look at various items around the room, or bring something to show them to occupy their interest.
Bring a comfort item for them to hold before, during, and after the vaccination. This can be a stuffed animal, small blanket or another soft item. Soft textures can help us feel soothed, which also results in relaxation and comfort.
Praise and encourage your child for getting vaccinated. Children thrive on acknowledgment and encouragement. Smile, hug, kiss the vaccine spot and let them know you are proud of them.
Manage your own stress throughout the process. We are all examples to one another. Children notice our example and tend to mimic us. We can't be stressed in a relaxed body or mind, so take a moment to reassure yourself as well. You are a good parent for attending to your child's health and wellbeing.
Wishing you good health and comfort,
Dr. Lori Kleinman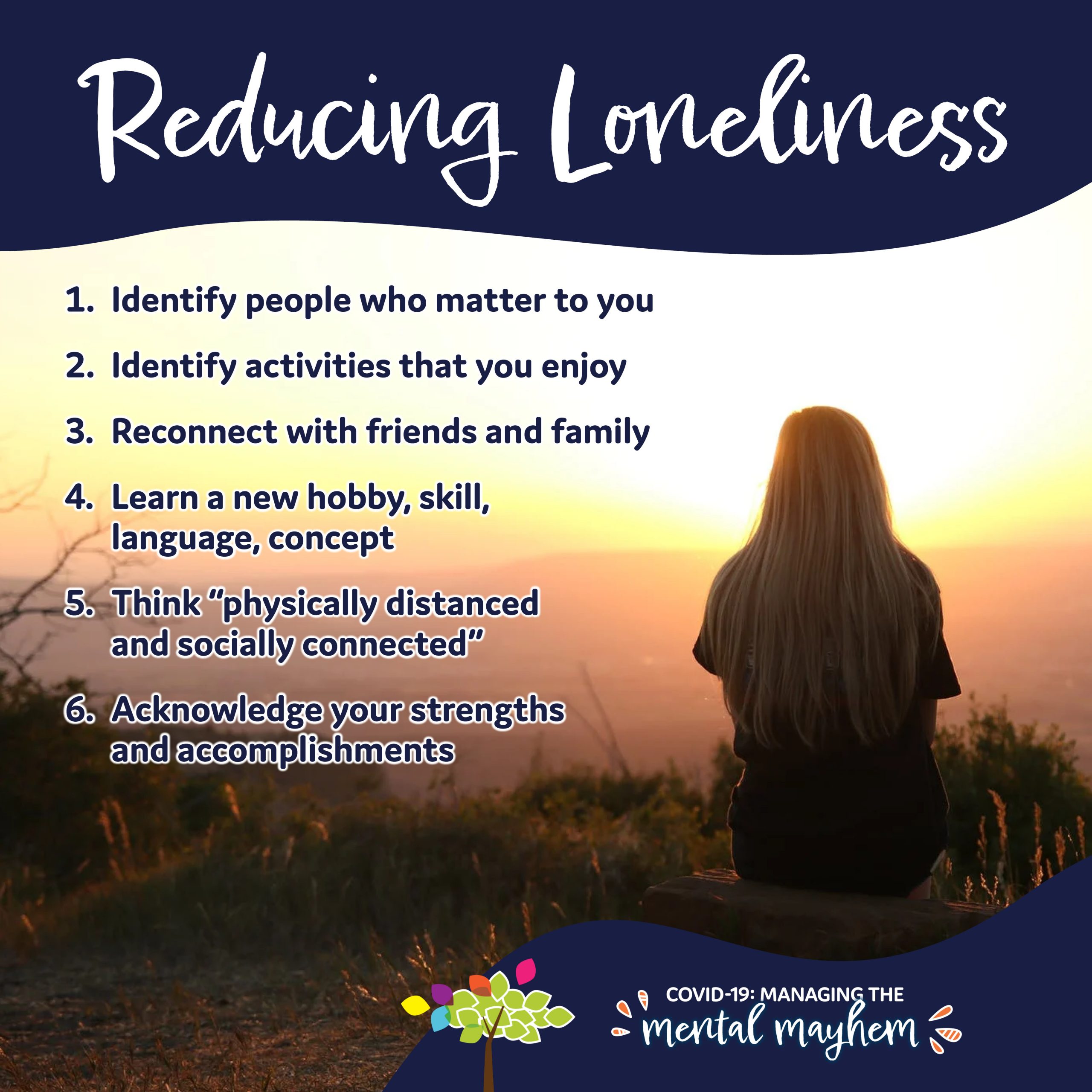 Read more: Reduce and Manage Loneliness
Reduce and Manage Loneliness
As we continue coping with COVID-19, we may find ourselves feeling more and more isolated. We can reach out by phone, videoconference, or physically distanced outings, yet we may still feel lonely.
Loneliness is different than isolation. Isolation means we are physically separated from others. Loneliness means we feel sadness because we are without friends or companionship. We may also feel lonely because our relationships do not seem meaningful. In fact, research has shown that frequent loneliness is most often associated with dissatisfaction with one's family, social and/or community life.
Remember that loneliness is a natural response to ongoing isolation and social uncertainty. This is especially true when we are missing meaningful relationships and life experiences.
Try these tips to help reduce and manage loneliness:
Take a moment and identify the people in your life who are meaningful to you. How often are you in contact with them? What methods of contact do you have with them? (phone, video, in-person, email, text, letters) Which methods of contact leave you feeling most connected to them? Now, make a schedule for yourself that includes regular contact with each of the people you have identified. When you reach out, utilize the answers to these questions to guide your experience together.
Take a moment and identify the activities in your life that bring you fulfillment and satisfaction. Make a list or menu of the activities that you could still pursue during the pandemic. You may need to be creative and rework some of your activities to fit current safety needs.
Re-connect with friends from your past or lookup relatives that you do not yet know or have not seen for a long time. This is a great time to reach out because we are all adjusting to new life demands.
Learn something new. Occupy and nourish your mind by learning a new hobby, skill, language or concept. Take advantage of a little extra time to yourself.
Change the idea of "social distancing" to "physical distancing." We can be physically apart yet socially connected.
Acknowledge your strengths and accomplishments. You've done a lot to make it this far, and that deserves some positive thinking.
Wishing you good health, comfort and connection,
Dr. Lori Kleinman
Mental Health Blog Archive
If you'd like to read past posts, take a look here!
Welcome & Dealing with Uncertainty
Welcome & Dealing with Uncertainty
Welcome to the Boulder County Public Health mental and behavioral health blog for coping with COVID-19. Our purpose is to help our community members best manage the stress, anxiety, and uncertainty that is a natural part of our experience during this pandemic. Please know that although the current situation is "abnormal" for all of us, it is "normal" to be experiencing thoughts and feelings that are more alarming than usual. The posts on this page will utilize our best knowledge in psychology, medicine, science and even the arts to help you and your loved ones through the coming days and weeks. You will be able to learn about sound psychological principles that keep us healthy and thriving day-to-day. You will also be given ideas and activities that can help make each day feel more meaningful and purposeful to you. We are living under difficult circumstances, and we have the ability to choose how we will respond to those circumstances. Psychology gives us tools to respond in ways that are good for us – good mentally, good emotionally, good physically, good spiritually, good relationally.
So, let's get started!
First, accurate knowledge helps to lessen our fear and anxiety. It's important that we focus on accurate knowledge from reliable sources, for example the Boulder County Public Health and Centers for Disease Control websites about the disease. One of the initial things first responders do in an emergency is take account of the facts of a situation using the most accurate knowledge available. It is essential to know what we're dealing with without distraction, so our emotional responses don't get in the way of our thinking and coping responses.
Fear is a natural emotional response when we perceive that we are in immediate danger. That fear response leads us to fight the danger or flee from it. In fact, it is called the "fight-flight" response. It helps us to survive when we are in immediate danger. There is much we can do now to reduce any chance of personal danger from this virus, such as self-quarantine to reduce possible exposure and spread. Anxiety is also an emotional response. However, anxiety can interfere with our ability to respond to danger or choose how we will solve problems. The anxiety response can get in the way of our ability to manage a situation. An example of anxiety getting in the way is when we start worrying about what might happen. Instead of being able to recognize a problem, access resources, think about possible solutions, and take purposeful action, we can become emotionally distracted and nervous. Then we have even more difficulty finding a solution, and our anxiety increases.
It's not unusual to worry when we are faced with ongoing uncertainty. The key is that we need to recognize it and take action to change the anxiety and worry into something productive. Fortunately, what we can do is rather simple. We need to ask ourselves one question: "Is there anything I can do about this thing I'm worried about?" If our answer is "yes", we can plan what we can do and get started doing it. If our answer is "no", then we need to start accessing accurate knowledge and resources to help us change the answer to "yes". Or, we need to recognize that sometimes we can't do anything, so we need to focus on something else. This takes practice, and the worrying may seep in, but we are starting to learn to self-regulate our responses and use our mental and emotional strength to feel more in control of our life.
Let's look at the idea of self-quarantine or stay-at-home orders. For most of us, these ideas are in stark contrast to the ways we usually live. We can begin to worry about what might happen, or even what is happening. But if we want to feel more in control of our life, we can use the worry question. "Is there anything I can do about self-quarantine or a stay-at-home order?" Or even better, "What can I do about self-quarantine or stay-at-home order?" Now we're getting somewhere. Whether it's voluntary or mandated stay at home, I can choose to comply so that I keep myself and others as safe as possible at this time. Whew…Next, I need to problem solve how I will comply without losing quality of life. I will tell myself, "This is a time for prevention. That means I will do the things that experts say will help us. It also means I won't do the things that experts say may likely hurt us." In addition, I will plan for my days at home, including meals, exercise, activities, checking in with reliable news for accurate knowledge, and social contact by phone, text, email, social media.
Remember, COVID-19 is real and important and is having a huge effect. We may feel uncertain and even scared. Yet we have the best scientists and medical researchers searching for solutions. We are in a country that has been resilient throughout our history. We are also resilient, and these situations remind us of that. This too shall pass, and in the meantime, we will help and support each other. You have knowledge, skills, abilities, talents that will help you through. Be gentle with yourself and others as we move through this one day at a time.
Wishing you good health,
Dr. Lori Kleinman