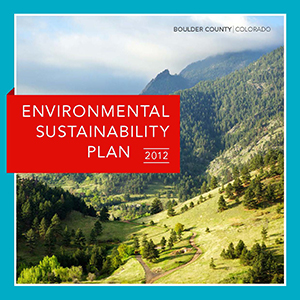 The 2012 Environmental Sustainability Plan was the first iteration of the plan intended to articulate Boulder County's vision to create a more environmentally sustainable community as well as provide a blueprint for achieving our collective environmental sustainability. An updated version of the plan was adopted in 2018 by the Board of County Commissioners.
By Chapter
Monitor indoor and outdoor air quality to prevent pollution.
Achieve carbon neutrality and become more resilient to the potential effects of climate change.
Preserve and restore healthy and vibrant ecosystems that sustain all inhabitants.
Foster building practices that encourage energy efficiency to reduce overall energy consumption while also increasing use of clean energy in new and existing buildings.
Enhance the health and well-being of all people and the environment in Boulder County.
Support local food production and encourage sustainable agricultural practices on publicly-owned and private lands.
Promote the use of alternative transportation and fuel-efficient vehicles in order to decrease emissions while maintaining or expanding mobility for county residents, employees and visitors.
Monitor water quality of rivers, streams, and watershed to maintain safe, sufficient clean water supply.
Reduce landfilled waste while finding ways to reuse, recycle and compost discarded materials.