Partners for a Clean Environment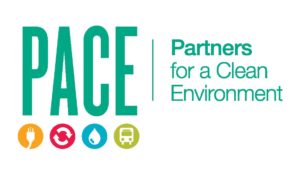 (PACE) provides free expert advisor services, financial incentives and a certification program to help businesses measure and gain recognition for their energy, waste, water, and transportation achievements.
Who is a PACE Partner?
PACE Partners are businesses committed to supporting a strong economy, implementing environmentally sustainable practices and demonstrating leadership in our community.
About Our Advisers
At Partners for a Clean Environment, our Business Sustainability Advisers are our most valuable resource. Whether your business is just getting started or is building on past successes, Advisers provide you with the personalized and technical assistance you need to achieve your business sustainability goals. Advisory assistance is provided at no cost to your business.
Your Advisor will identify opportunities specific to your business, ranging from employee engagement and low- and no-cost measures to large efficiency upgrades. These opportunities allow you business to:
Reduce costs
Improve resource conservation
Strengthen your contribution to our local community and economy
If you choose to pursue a project, your adviser will support you by providing technical assistance, financial incentives and employee education. Advisers can also assist you in earning PACE certification and taking advantage of business recognition opportunities.
Program History
PACE began in 1993 as a partnership of local governments and businesses committed to creating a business community with environmentally sustainable practices. Over the years, PACE has continued to evolve and expand its offerings to help businesses meet their sustainability goals and gain recognition for their achievements. More than 300 businesses and municipal operations across Boulder County (20 percent of all businesses and operations) are PACE certified.